Cranberry Eggnog Coffee Cake
I always thought that I hated eggnog.  And to be honest, I still don't really like to drink it.  But I discovered this year that I do love baking with it.  It has a much more subtle flavor when you mix it with other ingredients (obviously!) and when you add in a streusel topping and cranberries… how can you go wrong?  I have been patiently waiting to make this cake since I didn't want to move on to Christmas until Thanksgiving was officially over.
So as soon as our family left on Saturday, it was on.  No need to wait too long : )  We snacked on this cake as we decorated the house.  Perfect?  I think so.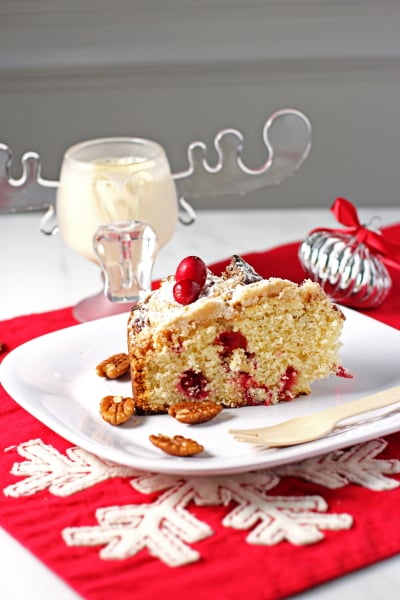 Let's sidetrack for a minute.  Who else is completely obsessed with National Lampoon's Christmas Vacation?  It is my all-time favorite holiday movie.  Notice the moose mugs?  Yeah, I snatched two of those right up the second I saw them.  Now when we watch the movie, I even get to drink from a mug just like Clark's.  Nerdy, yes?  But my husband and I get a kick out them (well more me than him) every single time.
Okay, back to this cake.  This is one of those desserts that I feel is perfectly acceptable to eat for breakfast.  It's not too heavy with frosting or glaze and goes incredibly well with a hot cup of coffee.  You get a hint of cinnamon and nutmeg, along with pops of slight tang from the fresh cranberries.  And then there's the streusel.  Streusel makes everything better.
Oh and please ignore the slightly burnt sides of my cake.  I stepped out of the kitchen to do laundry and got sidetracked.  And somehow missed my timer.  Sigh.  It was still really good even with the crunchy sides.  So you know how awesome it is if you don't burn things like me.
Cranberry Eggnog Coffee Cake
Recipe for cranberry eggnog coffee cake. Nice and moist from the eggnog with bursts of freshness from the cranberries. Finished with a streusel topping.
Ingredients:
For the cake:
2 ¼ cups all-purpose flour
2 teaspoons baking powder
¼ teaspoon salt
1 cup plus 2 tablespoons granulated sugar, divided
2 large eggs
¾ cup eggnog
5 ⅓ tablespoons (⅓ cup) unsalted butter, melted and cooled slightly
¼ teaspoon almond extract
½ teaspoon vanilla extract
1 cup fresh cranberries, coarsely chopped
For the topping:
½ cup granulated sugar
½ cup all-purpose flour
½ teaspoon cinnamon
pinch of nutmeg
4 tablespoons (¼ cup) unsalted butter, slightly softened
½ cup chopped pecans, optional
confectioners' sugar, for dusting
Directions:
Preheat the oven to 400 degrees. Using non-stick cooking spray or butter, generously grease the bottom and sides of a 9-inch springform pan. Set aside.
To make the cake – in a medium bowl, add the flour, baking powder and salt. Whisk to combine. In a large bowl, add the 1 cup granulated sugar, eggs, eggnog, butter, almond extract and vanilla extract. Mix until well combined. Add the dry ingredients to the bowl with the wet ingredients and mix until just incorporated.
In a small bowl, toss the cranberries with the remaining 2 tablespoons sugar until evenly coated. Gently fold the cranberries into the batter.
Transfer the batter to the prepared baking pan. The batter will be on the thicker side, so use a spatula to evenly distribute in the pan and smooth the top.
To make the streusel topping – add the sugar, flour, cinnamon, and nutmeg to a small bowl. Using a pastry cutter, two knives or your fingers, cut the butter into the mixture. Continue until it resembles coarse crumbs. Gently stir in the pecans (optional). Use your fingers to evenly sprinkle the streusel on top of the cake batter.
Bake for about 30 to 40 minutes, until a toothpick inserted into the middle of the cake comes out clean. Let the cake cool and then carefully unmold from the pan. Transfer to a serving platter. Dust with confectioners' sugar before serving.