Eggnog Waffles with Cinnamon Whipped Cream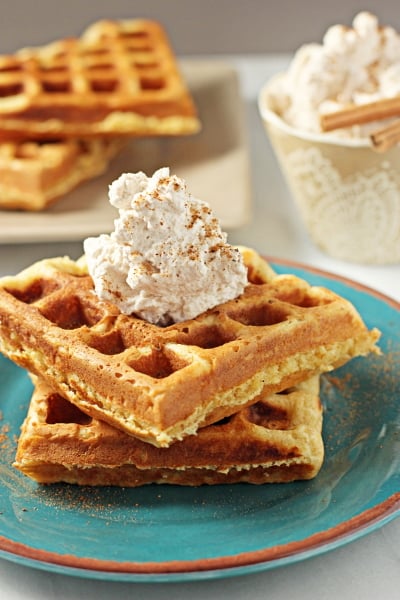 After making the cranberry eggnog coffee cake I shared with you last week, I was left with quite a bit of extra eggnog.  I hate wasting ingredients but didn't want to drink it, since that's just not my thing.  So instead I started brainstorming ideas to use up the remaining few cups that I had in my refrigerator.
And that's how these eggnog waffles were born.  Oh and there's a homemade cinnamon whipped cream that goes along with them.  It is so. stinkin. good.  Especially when it melts a little into the hot waffles.  I'm getting hungry just thinking about these again.  Good thing I have the extras stashed away in my freezer for next weekend.  Guess I'll also have to make some more whipped cream to go with them.  You don't have to twist my arm.
These waffles were adapted from a basic recipe that I use whenever we are in the mood for a special breakfast.  They are slightly crispy on the outside but still chewy on the inside.  These don't have a strong eggnog flavor, just a hint to make them a little different.  And then there's the cinnamon whipped cream.  Goodness gracious, I am in love with this stuff.  It goes perfectly with the eggnog flavor in the waffles and you definitely do not even need maple syrup.  I had a little extra leftover and put it on top of just about everything I could think of.  No, I'm not ashamed.  Make these this holiday season – you'll be glad you did!
Eggnog Waffles with Cinnamon Whipped Cream
Recipe for eggnog waffles with cinnamon whipped cream. Crispy on the outside, chewy on the inside and with a hint of eggnog flavor to make them different.
Ingredients:
For the waffles:
1 ¾ cups all-purpose flour
1 tablespoon baking powder
1 teaspoon salt
1 tablespoon granulated sugar
¾ teaspoon cinnamon
¼ teaspoon nutmeg
2 large eggs
1 ½ cups eggnog
6 tablespoons unsalted butter, melted and cooled slightly
1 tablespoon bourbon, optional
For the whipped cream:
1 cup heavy cream
2 tablespoons granulated sugar
¾ teaspoon cinnamon
¾ teaspoon vanilla extract
Directions:
To make the waffles – in a medium bowl, whisk together the flour, baking powder, salt, sugar, cinnamon and nutmeg. In a large bowl, whisk together the eggs, eggnog, butter and bourbon. Add the dry ingredients to the wet ingredients and mix until just combined. The batter will still be lumpy.
Preheat a waffle maker. Pour the recommended amount of batter into the waffle maker according to the manufacturer's instructions. Cook until golden brown.
Meanwhile, to make the whipped cream, add the heavy cream, granulated sugar, cinnamon and vanilla extract to the bowl of a stand mixer fitted with the whisk attachment. Start with the mixer on low (to avoid it going everywhere) and then increase the speed to medium high. Whip until stiff peaks form. Do not over beat, or it will look curdled.
To serve, top the hot waffles with a generous dollop of whipped cream. Sprinkle with a dash of nutmeg and serve.