Sweet Potato, Black Bean and Kale Quesadillas
Do you remember these mexican sweet potato skins?  Yeah – they are still one of my favorite meals to date.  I kept planning to use the leftover filling from them to make quesadillas, but somehow we always ate all of it a little too quickly.  You know, for snacking or lunches.  Or more snacking.  Oops.  So I figured why not just start from scratch and use those potato skins as inspiration?
I'm happy to say that I finally got my quesadillas.  While these aren't quite the same as those potato skins, they are still so very good … and very different from your standard quesadilla.  I think my husband was a little surprised when he took his first bite.  I sometimes don't tell him what I put in things – it's a game I play called can you guess what's in this??  Lame, I know.
But anyway… the mashed sweet potatoes make the base for the filling, with bites of black beans and kale, along with plenty of spices.  Freshly grated cheese rounds these out, making a great vegetarian option for lunch or dinner.  My husband liked these best with a good dose of hot sauce, while I preferred them with a touch of greek yogurt for dipping.  As good as they were for dinner, we both thought that the filling got even better the next day, making for a quick and easy weekend lunch.
Sweet Potato, Black Bean and Kale Quesadillas
Recipe for sweet potato, black bean and kale quesadillas. Filled with mashed sweet potato, beans, kale and plenty of spices. Topped with a little cheese.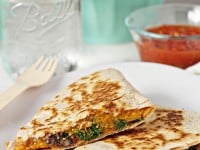 Ingredients:
For the quesadillas:
3 medium sweet potatoes, sliced ½ inch thick*
¾ teaspoon salt, divided
½ teaspoon cumin
½ teaspoon chili powder
¼ teaspoon oregano
1 to 2 chipotle peppers in adobo sauce, minced
½ tablespoon olive oil
3 cups chopped kale
3 green onions, thinly sliced
1 can black beans, drained and rinsed
8 to 10 large flour tortillas
2 to 2 ½ cups freshly grated cheddar cheese
For serving:
hot sauce, optional
greek yogurt or sour cream, optional
salsa, optional
Directions:
Add the sliced potatoes to a large saucepan and add enough water to cover the potatoes. Add ½ teaspoon of the salt to the pot. With the heat on high, bring the water to a boil. Once it reaches a boil, reduce the heat to medium and simmer for about 15 minutes, until the potatoes are tender. Drain the potatoes and then add to a large bowl. Use a potato masher to mash the potatoes. Add the remaining ¼ teaspoon salt, cumin, chili powder, oregano and chipotle peppers. Mix until well combined.
In a medium skillet, heat the olive oil over medium heat. When hot, add in the kale and green onions. Cook for about 2 to 3 minutes, until the kale is bright green and tender. Add the mixture to the bowl with the mashed sweet potatoes. Next add in the black beans and mix until well combined.
Place the tortillas on a work surface. Use a spatula to smear about ⅓ to ½ cup of the filling on half of the tortilla. Top with about ¼ cup of the cheese (or to taste). Fold the empty half of the tortilla over the filling to form a semicircle. Repeat with remaining tortillas.
Wipe out the skillet you used for the kale and set over medium high heat. When hot, spray lightly with nonstick cooking spray. Place an assembled quesadilla in the pan and cook, flipping once halfway through, until both sides are browned and the cheese is melted. Cut into triangles and serve with hot sauce, greek yogurt and/or salsa.
*You can peel your sweet potatoes if desired. We like the skins, so I leave them on.