Sweet Potato, Black Bean and Kale Quesadillas
These sweet potato, black bean and kale quesadillas are a simple and healthy meal! With a creamy chipotle filling, crispy exterior and plenty of cheese, they're excellent for dinner or game day. Dairy free and vegan options included.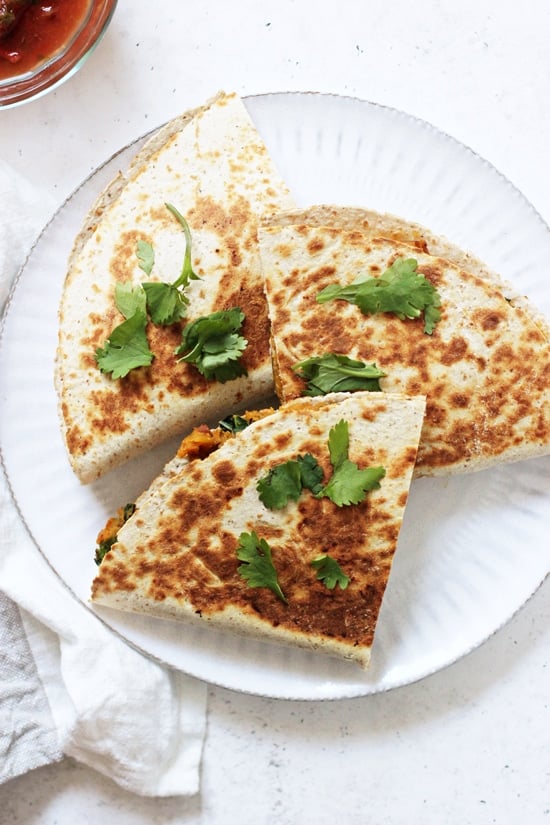 These sweet potato, black bean and kale quesadillas were originally published in March 2013. The post has been updated as of January 28, 2019 with new photos, text and improved recipe instructions.
Today we talk an old favorite with these sweet potato black bean quesadillas! Which have long been one of the most popular recipes on this site (!!).
And for good reason. They're cheesy, crispy, slightly smoky, oh-so-flavorful! And make an excellent option for dinner OR for a game day feast.
So clearly it was time for a bit of a revival in the form of new photos and some tips & tricks (& options) to make the recipe even better.
Now, for those of you who have been making these, do not worry. The recipe is still exactly the same.
BUT. The instructions are a bit clearer AND I eliminated the need to dirty up a large bowl (instead we're just mixing the filling all together in the pot we use to cook the potatoes).
Because less dishes to wash is ALWAYS a good thing.
Now, on the flip side, for those of you who are new to this recipe, let's discuss.
We have a creamy mashed sweet potato filling that is packed with spices and smoky chipotle peppers (yesss).
There's some kale and green onion for freshness and some black beans for a bit of protein.
It gets cooked up inside a tortilla until nice and crispy, and then we serve with lots of fun toppings. Maybe some salsa, avocado, hot sauce, chopped cilantro. You really can't go wrong.
It's simple, healthy and perfect for meatless monday.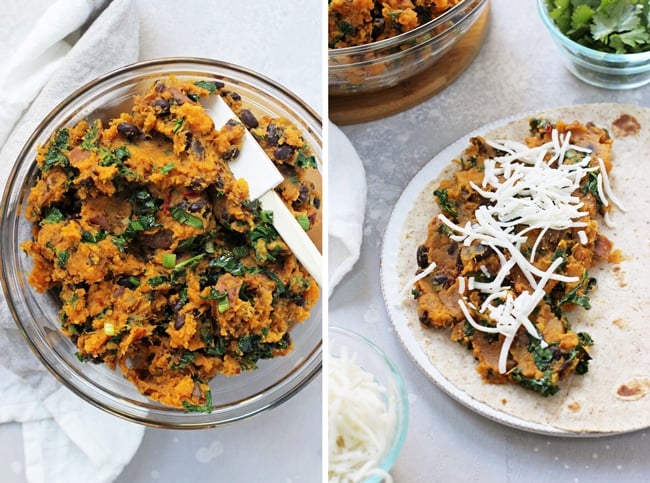 How To Make Sweet Potato Quesadillas
So, let's discuss the actual cooking process.
First up, we make the filling. We boil sliced sweet potatoes until nice and tender, then mash and mix together with all the seasonings, kale, green onion and black beans.
Next, we form our quesadillas. Some of the filling gets smeared on half of each tortilla and topped with cheese, before being cooked off to crispy, melty perfection.
Tips & Tricks For These Sweet Potato Black Bean Quesadillas
First up, let's talk options. To make these quesadillas vegan / dairy free, use your favorite dairy free shredded cheese and be sure to serve with appropriate toppings. OR you can also just completely leave off the cheese (the sweet potato filling helps hold the quesadillas together). However, if you go this route, be sure that your filling has enough salt and flavor to your liking (as you'll lose some of the salt and flavor from the cheese). And definitely serve with some toppings to boost the taste.

Another option, you can use spinach instead of the kale (I would do three well packed cups) or even shredded chicken instead of the black beans (you'll want about 1 ½ cups). Lots of choices here today!

Moving along, you can absolutely peel your sweet potatoes if desired. I personally leave the skins on since it's easier / quicker and there's lots of great nutrients in the skin.

Now, if you don't like spice, use less chipotle peppers to taste. With the full two peppers, there's definitely some kick, but not in a completely overwhelming kind of way.

Your yield may vary slightly depending on how full you stuff your quesadillas and the exact size of your sweet potatoes.

And finally, the cook time is based off 30 minutes to make the filling plus 20 minutes to cook the quesadillas in a large skillet. I can fit two assembled quesadillas at a time in my skillet – so your cook may vary depending on the size of yours.
Make Ahead Options
Option #1: Make the sweet potato filling in advance and store in an airtight container in the fridge. When ready to enjoy, reheat the filling slightly, then assemble the quesadillas and cook off in a skillet.
Option #2: Make the filling then let it cool to room temp. Assemble the quesadillas as directed, then wrap each individually in plastic wrap and transfer to the fridge (they'll keep like this for about 1 to 2 days). Cook them off in the skillet when ready to eat.
Additional Sweet Potato Recipes You Might Enjoy:
Did you make this recipe? Rate and review it down below! I'd love to hear from you.
Sweet Potato, Black Bean and Kale Quesadillas
Yield:
about 4 to 8 servings
Total Time:
1 hour
10 minutes
These sweet potato, black bean and kale quesadillas are a simple and healthy meal! With a creamy chipotle filling, crispy exterior and plenty of cheese, they're excellent for dinner or game day. Dairy free and vegan options included.
Ingredients
For the quesadillas:
3 medium sweet potatoes, sliced ½ inch thick
¾ teaspoon fine sea salt, divided
½ teaspoon ground cumin
½ teaspoon chili powder
¼ teaspoon dried oregano
1 to 2 chipotle peppers in adobo sauce, minced
1 tablespoon olive oil
3 cups stemmed and chopped curly kale
3 medium green onions, thinly sliced
1 (15 ounce) can black beans, drained and rinsed
about 8 to 10 large whole wheat flour tortillas
about 2 to 2 ½ cups grated cheddar or mozzarella cheese*
Serving ideas:
hot sauce
greek yogurt, sour cream or cashew sour cream
your favorite salsa
sliced avocado or guacamole
Instructions
Add the sliced sweet potatoes and ½ teaspoon of the salt to a large stockpot. Add in enough water to cover the potatoes. Bring the water to a boil then reduce the heat to medium high or medium (whatever is needed) and simmer for about 15 minutes, or until the potatoes are tender and mash easily with a fork.
Drain the potatoes and return to the pot. Use a potato masher to mash the potatoes, then add in the remaining ¼ teaspoon salt, the cumin, chili powder, oregano and chipotle peppers. Mix until well combined.
While the potatoes are simmering, add the olive oil to a large nonstick skillet set over medium heat. When hot, add in the kale and green onions. Cook for about 3 minutes, until the kale is bright green and wilted slightly. Remove from the heat.
Add the mixture, along with the black beans, to the pot with the mashed sweet potatoes. Mix to combine. Taste and season with additional salt and / or pepper as desired (I usually add more salt - somewhere around ½ to ¾ teaspoon).
Place a tortilla on a work surface. Smear about ⅓ to ½ cup of the filling on half of the tortilla, leaving a small border around the edge. Top with about ¼ cup of the cheese (or to taste). Fold the empty half of the tortilla over the filling to form a semicircle. Repeat with the remaining tortillas.
Wipe out the skillet you used for the kale and set it over medium heat. When hot, place 1 to 2 assembled quesadillas in the pan (depending on the size of your skillet and what will fit comfortably) and cook, flipping once halfway through, until both sides are browned and crispy and the cheese is melted. Repeat this process with the remaining quesadillas.
Cut the quesadillas into triangles and serve as desired!
Notes
*See the tips & tricks section in the post above for dairy free / vegan options!
Nutrition Information:
Yield:

8
Serving Size:

1
Amount Per Serving:
Calories:

344
Total Fat:

12g
Saturated Fat:

5g
Trans Fat:

0g
Unsaturated Fat:

6g
Cholesterol:

22mg
Sodium:

648mg
Carbohydrates:

45g
Fiber:

6g
Sugar:

4g
Protein:

14g
Nutrition data shown is an estimate provided by an online calculator and is for informational purposes only. It should not be considered a substitute for a medical professional's advice.