Sparkling Winter Champagne Sangria
Sparkling winter champagne sangria! A festive, make-ahead holiday drink! With white wine, champagne, cranberry juice, fresh fruit and a spiced simple syrup!
I'm a total sucker for pretty foods. And drinks. Since we're talking drinks today.
And this recipe right here was just so darn photogenic! I feel like I'm talking about a person. But nope. Just food. Look at those colors! That fizz! ♥
So. I give you sparkly, festive, winter sangria. With champagne! Because I thought bubbles were a necessity when coming up with a drink for New Year's Eve fun.
And we all know that I have a total soft spot for sangria. I'm pretty sure that 9 out of 10 cocktail recipes on this blog are some various flavor of sangria. And don't think this train is stopping anytime soon. No sir!
About This Champagne Sangria
So today's sangria is slightly different than all the others that I've posted because it involves the bubbly. In a way it felt like a cross because sangria and a super fancy pants mimosa.
I also just like to say fancy pants. <— Such a fun expression.
But anyway. We have a sort of classic sangria base – white wine, a little bit of brandy, some juices and of course the fruit.
Plus a fancy pants (I know, I know, I'll stop saying it now) simple syrup to sweeten it up and infuse it with spiced holiday goodness, like cinnamon and star anise. Make it nice and wintery, if you will.
And finally, just before serving, we pour in the fun stuff. The champagne. Bubbles bubbles!
Added bonus is that this actually makes quite a bit of sangria since we have both white wine and champagne involved. So go right on ahead and make it for any gathering on the big night.
You can even pour the champagne into the pitcher in front of everyone so you can all oooo and ahhh over your cocktail mastery. Okay, maybe I'm the only one who would do this.
Anywho, I have one more cocktail recipe coming 'atcha before New Year's. Not another sangria though because my husband said I needed to branch out.
So there's bourbon involved instead. His favorite. Funny how that worked out, eh? Hmmmm.
Additional Drink Recipes You Might Enjoy!
Did you make this recipe? Rate and review it down below! I'd love to hear from you.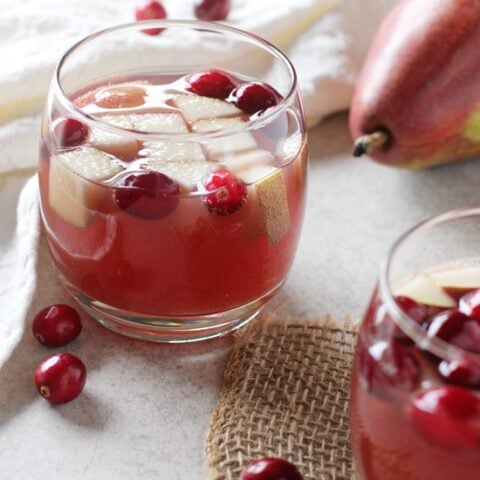 Sparkling Winter Champagne Sangria
Sparkling winter champagne sangria! A festive, make-ahead holiday drink! With white wine, champagne, cranberry juice, fresh fruit and a spiced simple syrup!
Ingredients
For the spiced simple syrup:
1 cup water
1 cup granulated sugar
2 cinnamon sticks
2 whole star anise
½ teaspoon whole allspice
¾ teaspoon vanilla extract
For the sangria:
1 (750 ml) bottle white wine
1 ½ cups cranberry (or pomegranate!) juice
1 ½ cups pear juice
⅓ cup brandy
¼ to ½ cup spiced simple syrup (depending on how sweet you like it)
½ cup fresh cranberries
2 medium pears, chopped
1 (750 ml) bottle champagne or prosecco
Instructions
To make the spiced simple syrup:
Add the water, sugar, cinnamon sticks, star anise and allspice to a small saucepan. Set the pan over medium-high heat and cook, stirring frequently, until the sugar has completely dissolved into the water. Let the mixture come to a gentle boil, then turn down the heat and let simmer gently for 5 minutes.
Remove from the heat and stir in the vanilla extract. Let the mixture cool completely then remove the cinnamon sticks, star anise and allspice (and discard). Store the syrup in the refrigerator until ready to use.
To make the sangria:
Add the white wine, both kinds of juice, the brandy and simple syrup to a large pitcher. Stir to combine. Taste and adjust anything if need be to your own preferences (keeping in mind that all the champagne will be added later).
Add in the cranberries and pears and mix again. Transfer to the refrigerator and let chill for several hours so the flavors can meld.
Right before serving, pour in the champagne and mix gently. Serve over ice!
Notes
You'll have extra simple syrup. It is fantastic in other cocktails as well! Or in iced tea, etc… get creative!
I like to use pinot grigio or sauvignon blanc here for the wine. But feel free to play around to your own tastes.
Also make sure you use cranberry juice cocktail here (don't go for the 100% cranberry juice - it's so tart and doesn't quite work the same in this drink).
Play around with how much simple syrup you like - start with the lower end! You can always add more later!
Nutrition Information:
Yield:

8
Serving Size:

1
Amount Per Serving:
Calories:

135
Total Fat:

0g
Saturated Fat:

0g
Trans Fat:

0g
Unsaturated Fat:

0g
Cholesterol:

0mg
Sodium:

9mg
Carbohydrates:

24g
Fiber:

2g
Sugar:

17g
Protein:

0g
Nutrition data shown is an estimate provided by an online calculator and is for informational purposes only. It should not be considered a substitute for a medical professional's advice.