Spinach and Sun-Dried Tomato Frittata Muffins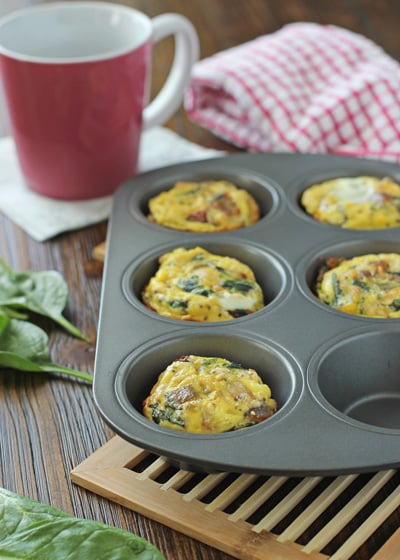 I'm always looking for new breakfast ideas.  Especially ones that I can make on the weekend and just pull out of the fridge during the week.  I get bored quickly when it comes to my breakfast routine, so new recipes to add to the mix are always a very good thing.
And these frittata muffins are perfect for just that.  You can make a batch when you have time and then eat them as you please over the next few days.  Or gobble them up all at once.  I won't judge – we may have some experience in that department.
I usually eat oatmeal, granola or toast during the week, so having something with eggs is a nice change.  And one of my favorite things about these little frittatas is that you can adjust the filling as you please.  Feel like subbing in some bacon or sausage?  Or a different type of cheese?  Go for it.  Customize to your heart's content.
And I mean, they're just so darn cute.
Spinach and Sun-Dried Tomato Frittata Muffins
Recipe for spinach and sun-dried tomato frittata muffins. A favorite breakfast option in portable form that is easy to customize to your own taste.
Ingredients:
For the filling:
1 tablespoon olive oil
1 red onion, chopped
⅓ cup sun-dried tomatoes, drained, patted dry and chopped
4 cups roughly chopped fresh spinach
½ teaspoon salt
pepper, to taste
¾ cup feta crumbles
2 tablespoons chopped fresh basil
For the base:
8 large eggs
¼ cup half and half
½ teaspoon salt
¼ teaspoon pepper
Directions:
Adjust an oven rack to the lower-middle position. Preheat the oven to 425 degrees. Generously grease a nonstick muffin tin with cooking spray. Set aside.
To make the filling – set a medium skillet over medium heat. Add in the olive oil. When hot, add in the onion. Cook for about 5 to 7 minutes, until soft. Add in the sun-dried tomatoes and spinach. Cook until the spinach is wilted, about 1 minute. Turn off the heat and stir in the salt and pepper. Transfer to a bowl and let cool for about 10 minutes. Add in the feta and basil and mix to combine.
To make the base – in a large bowl, whisk together the eggs, half and half, salt and pepper.
To assemble – evenly divide the cooled spinach filling among the prepared muffin cups. Next, using a ladle, evenly spoon the egg mixture on top of the filling in each cup. Bake for about 9 to 11 minutes, until the muffins are just set in the center and are lightly puffed. Transfer the pan to a wire rack and let cool for about 10 minutes. Run a butter knife around the edges of the frittatas to loosen them from the tin if needed.
If making ahead of time, store completely cooled muffins in an airtight container in the refrigerator. To reheat – wrap a muffin in a paper towel and microwave for about 30 to 45 seconds. Don't microwave too long or they will have a tough texture.
Filling from Cook Nourish Bliss. Muffin base lightly adapted from Cook's Country.