Almond Pound Cake
This almond pound cake is moist, rich and perfect for a special dessert! Finished with an almond glaze and almond slices, it is packed to the brim with nutty flavor. Vegetarian and soy free.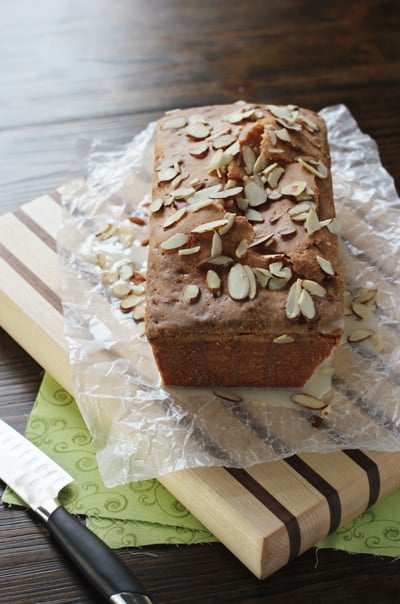 Note: This recipe is NOT dairy free. It was published before Cook Nourish Bliss transitioned to dairy free recipes and remains popular with long time readers. You can try using substitutions to make it dairy free, however I have not tested this myself and can't say how it will turn out.
This recipe has been a long time coming.
Many many years ago, back when I mostly stuck to box mixes, I made an almond pound cake from a company that begins with a tastefully and ends with a simple.
My mom had bought a few extra boxes and I was going to spend Thanksgiving with my husband's parents for the first time. I didn't want to go empty handed and I thought it sounded good.
It ended up being a huge hit and was requested several times after that.
Fast forward a few years and I was at the point where I much preferred to make things from scratch. But that pound cake had become a bit of a Thanksgiving tradition. So it was time to find a recipe.
But let's just say that the search did not go so well. My personal favorite was one horrible recipe that resulted in batter all over the inside of my oven and probably a number of choice words from me.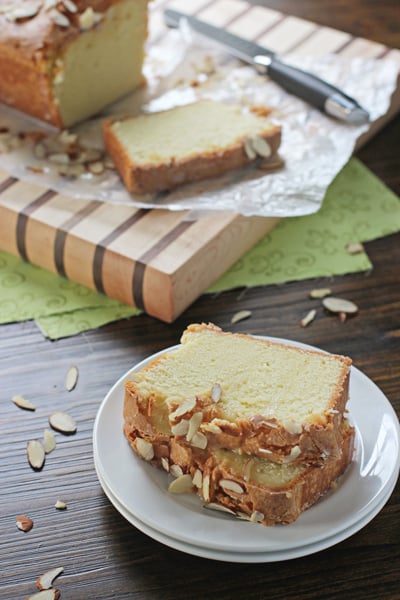 But this year the search finally came to an end.
This from scratch almond pound cake is perfect. Dense like pound cake should be, but not too dense or like a brick.
The method may seem a little different, but just trust the recipe and follow it as written. The people over at Cook's Illustrated know what they are talking about.
This cake has just the right texture and rises beautifully without any baking powder, as long as you follow all of the steps. So just do it. No cheating, got it?
And did I mention that it's finished off with a glaze and some sliced almonds?? Just another reason to give this cake a whirl.
Additional Loaf Recipes You Might Enjoy:
Did you make this recipe? Rate and review it down below! I'd love to hear from you.
Almond Pound Cake
Additional Time:
20 minutes
Cook Time:
1 hour
10 minutes
This almond pound cake is moist, rich and perfect for a special dessert! Finished with an almond glaze and almond slices, it is packed to the brim with nutty flavor. Vegetarian and soy free.
Ingredients
For the cake:
1 cup (2 sticks) unsalted butter, cut into 16 pieces and chilled
3 large eggs
3 large egg yolks
1 teaspoon vanilla extract
1 ½ teaspoons almond extract
½ teaspoon salt
1 ¼ cups granulated sugar
1 ¾ cups cake flour
For the glaze:
1 cup confectioners' sugar
2 to 3 tablespoons whole milk
¼ teaspoon almond extract
pinch of salt
sliced almonds, for sprinkling
Instructions
To make the cake:
Add the butter pieces to the bowl of a stand mixer fitted with the paddle attachment. Let the butter stand at room temperature for about 20 to 30 minutes to allow it to soften slightly (the temperature should be no more than 60 degrees if you have an instant-read thermometer). In a liquid measuring cup, add the eggs, egg yolks, vanilla and almond extract. Beat with a fork to combine. Set aside while the butter is softening.
Preheat the oven to 325ºF and adjust an oven rack to the middle position. Grease and flour an 8 ½ by 4 ½ inch loaf pan and set aside.*
Add the salt to the bowl of the mixer. Beat together the butter and salt on medium-high speed until smooth and creamy, about 2 to 3 minutes, scraping down the bowl once.
Turn the speed down to medium and slowly pour in the sugar, taking about 1 minute to do so. Increase the speed to medium-high and beat for 5 to 8 minutes, scraping down the bowl once, until light and fluffy.
Turn the speed down again to medium and slowly pour in the egg mixture in a steady stream, taking about 1 to 1 ½ minutes to do so. Scrape down the bowl. Beat again on medium-high for 3 to 4 minutes (it may look slightly curdled). Remove the bowl from the mixer and scrape down the bowl.
Sift the cake flour into the bowl in three separate additions, gently folding the flour into the mixture each time until combined. Be sure to scrape along the bottom of the bowl to ensure it is well combined.
Pour the batter into the prepared pan. Use a spatula to smooth the batter evenly in the pan.
Bake for about 1 hour and 10 minutes to 1 hour and 20 minutes, until golden brown and a toothpick inserted into the middle comes out clean.
Transfer the pan to a wire rack. Allow to cool for about 20 to 30 minutes. Gently run a butter knife around the edges to help loosen it from the pan, if needed. Remove the cake from the pan and let cool completely on the wire rack.
To make the glaze:
Whisk together the confectioners' sugar, milk, almond extract and salt in a small bowl. Add more milk or confectioners' sugar to achieve the consistency that you want.
Pour the glaze over the completely cooled cake and then sprinkle with the sliced almonds.
Notes
If you only have a 9x5 inch loaf pan, you can go ahead and use it. However, be sure to check the loaf while baking about 5 minutes earlier than noted in the recipe above.
Cake from Cook's Illustrated The Science of Good Cooking
Nutrition Information:
Yield:

12
Serving Size:

1
Amount Per Serving:
Calories:

369
Total Fat:

18g
Saturated Fat:

11g
Trans Fat:

0g
Unsaturated Fat:

7g
Cholesterol:

149mg
Sodium:

128mg
Carbohydrates:

46g
Fiber:

0g
Sugar:

30g
Protein:

5g
Nutrition data shown is an estimate provided by an online calculator and is for informational purposes only. It should not be considered a substitute for a medical professional's advice.