Chocolate Sweet Potato Bread
Has my obsession with sweet potato gone a little too far? Because yes, I absolutely just put some in cake.
Well, technically bread. But we're not going to get into my crazy recipe naming shenanigans again. I'll spare you from that today.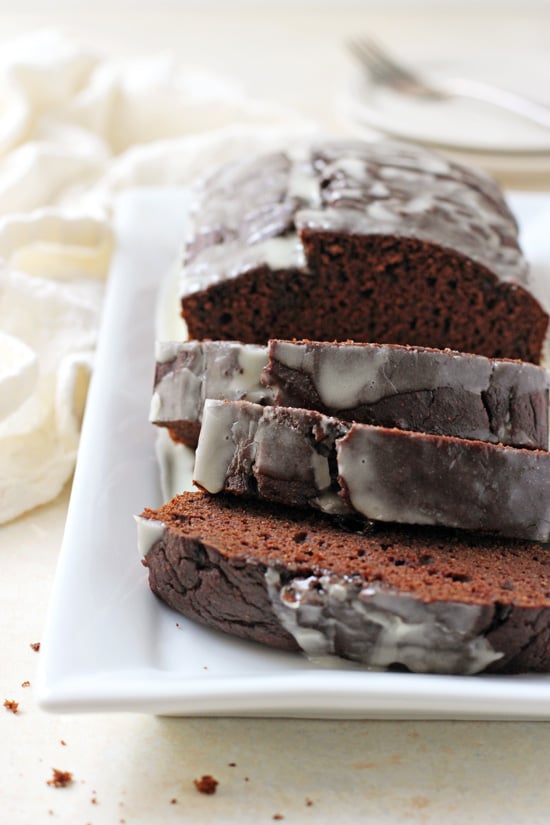 And regardless of my obsession, the fact remains that this chocolate sweet potato bread is completely delicious! It's moist and fluffy and lightly sweet! And slightly addicting as an afternoon snack or dessert.
It's packed with one whole pureed cup of my favorite orange veggie (!!), which is balanced out perfectly by some cocoa powder and maple syrup. You don't really taste straight up sweet potato – it more just adds this sort of cozy warmness to the bread (along with some ground cinnamon).
And when we top the whole thing off with a simple orange-y glaze? I have a feeling you might be constantly sneaking into the kitchen for just "one more slice." <— Not that I know anything about that.
Plus, there's chocolate involved, so it's perfect for Valentine's Day, right?! Right!
Now, let's get to some tips & tricks for the recipe.
I say this in just about every baking recipe, but please stick with the white whole wheat flour here. It helps keep the bread from getting overly heavy and dense.
Let's talk bake time. In my oven, this takes right around 45 to 50 minutes. But all ovens are different! The first time you make it, I'd recommend checking the loaf around the 40 to 45 minute mark, just to make sure you don't overcook it!
If you don't want to glaze the loaf, you could sprinkle it with some sparkling sugar or chopped nuts right before baking, for a delightful little crunch on top!
Moving on to the glaze itself. The glaze sort of seeps / melts into the bread more and more as it sits. Which, let's be honest, isn't a bad thing at all taste wise. But, it doesn't look all pretty like it does when freshly glazed. So, if making this for some occasion, I'd recommend just glazing shortly before serving.
So. Important question. When there are veggies in our cake that means we can eat more, yes???
Chocolate Sweet Potato Bread
Prep Time: 15 minutes
Cook Time: 50 minutes
Total Time: 1 hour 5 minutes
Wonderfully soft & moist chocolate sweet potato bread! Made with whole wheat flour, sweet potato puree & topped with a quick glaze!
Ingredients:
For the bread:
1 cup white whole wheat flour
½ cup all-purpose flour
½ cup unsweetened cocoa powder
1 teaspoon ground cinnamon
¾ teaspoon baking soda
½ teaspoon fine sea salt
1 cup sweet potato puree (store-bought or homemade)
2 large eggs
1 ½ teaspoons vanilla extract
¼ cup grapeseed oil
¼ cup unsweetened almond milk
½ cup pure maple syrup
For the glaze:
¾ cup confectioners' sugar
about 1 ½ tablespoons orange juice
Directions:
For the bread:
Preheat the oven to 350ºF. Spray a 9×5 inch loaf pan with nonstick cooking spray and set aside.
In a large bowl, whisk together the white whole wheat flour, all-purpose flour, cocoa powder, cinnamon, baking soda and sea salt. In a medium bowl, whisk together the sweet potato puree, eggs, vanilla, oil, almond milk and maple syrup until well combined. Add the wet ingredients to the bowl with the dry ingredients and mix until just combined (it will be a thicker batter). Transfer the batter to the prepared pan and spread evenly with a spatula.
Bake for 45 to 60 minutes, or until a cake tester inserted into the middle comes out clean. Set the pan on a wire rack. Let the loaf cool completely, then remove from the pan.
For the glaze:
In a small bowl, whisk together the confectioners' sugar and orange juice until combined (feel free to adjust the amounts to get the glaze to your desired consistency).
Drizzle the glaze over the top of the loaf. Let the glaze set for a bit before slicing to serve!
See post above for some tips & tricks for this recipe!