Spinach Salad with Fresh Cranberry Vinaigrette
It's time to mix in some greens with all that butter and sugar I've been throwing your way.
And eat some better-for-me food so I can prepare to consume even more goodies on Christmas day.  It's all about balance, right?
So let's talk a quick and easy salad.   That has a very pretty colored dressing.  Which gives it bonus points in my opinion.
The base is a simple spinach salad with my favorite combination of fruit, nuts and cheese – the perfect trifecta for salads in my world.  And then there is that bright orange / pink dressing – a little sweet and a little tangy.  And with fresh cranberries – so seasonally appropriate right now.
A sort of detox among all the cookies.  Eat this for lunch or dinner (with some sliced chicken perhaps?) or serve it as an appetizer for guests.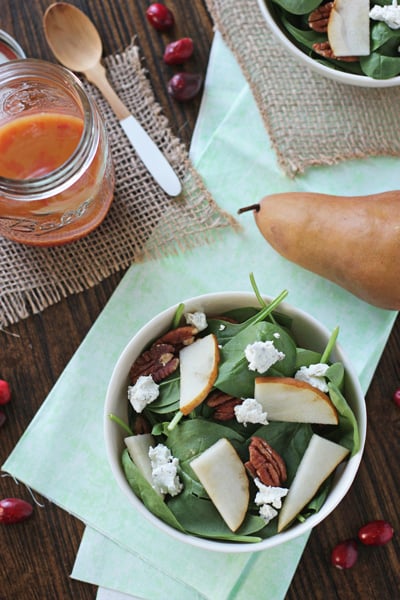 And then go eat some more cookies … or fudge … or cake?  It is the holidays after all.
Yield: about ½ cup of salad dressing
Spinach Salad with Fresh Cranberry Vinaigrette
Recipe for spinach salad with fresh cranberry vinaigrette. Filled with pecans, sliced pears and goat cheese. An easy meal or appetizer for the holidays.
Ingredients:
For the dressing:
⅓ cup fresh cranberries
3 tablespoons freshly squeezed orange juice
1 tablespoon white wine vinegar
1 teaspoon dijon mustard
¼ teaspoon salt
freshly ground pepper, to taste
2 tablespoons honey
¼ cup olive oil
For the salad:
baby spinach leaves
pear slices
pecan halves, roughly chopped
crumbled goat cheese (even better if it's herbed goat cheese)
Directions:
To make the dressing – add the cranberries and orange juice to a small saucepan. Set over high heat and bring to a boil. Once boiling, turn off the heat and cover with the lid. Let stand for 5 minutes, until the cranberries have softened. Transfer the mixture to a food processor (or blender). Let cool to room temperature, about 5 minutes.
Add the vinegar, mustard, salt, pepper and honey to the food processor. Process until smooth, about 25 seconds. With the food processor running, pour in the olive oil and continue to process until well combined. Store the dressing in the refrigerator until ready to use.
To make the salad – in a large bowl, add the desired amount of spinach, sliced pear, pecans and crumbled goat cheese. Toss to combine. Add in the desired amount of dressing and toss again to coat. Serve immediately.
Salad from Cook Nourish Bliss. Dressing adapted from Cook's Illustrated Holiday Entertaining 2012.