Soba Noodle and Pine Nut Salad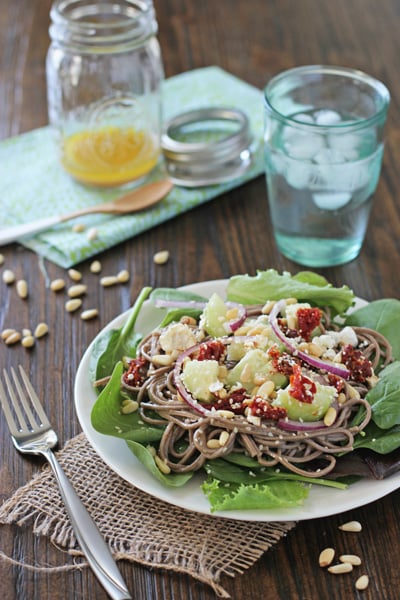 You know those restaurants where you just order the exact same thing over and over and over?  And you actually have no idea if the rest of the food is even any good because you stick to the same dish every single time you go?
So that's me with this one particular restaurant down the street from our house.  While I usually branch out and try new things, I am completely stuck on this one salad from their menu.  I order it every. single. time.  No exceptions.
According to my husband the rest of the food is totally fine, although nothing to write home about, so I figured it was time to recreate something similar at home.  Save him from me forcing us to go to said restaurant just so I can get my salad.
So here it is.  And guess what?  I'm of course completely stuck on this version too.  We've had it a few too many times over the last couple of weeks.
Crispy greens topped with soba noodles and a whole pile of toppings – like feta, pine nuts, sun-dried tomatoes and cucumbers.  And then there's a delicious lemony vinaigrette to go along with it.
I am not one to turn down a delicious plate of piled high noodles.  Especially when I can call it a salad.
Soba Noodle and Pine Nut Salad
Recipe for soba noodle and pine nut salad. Crisp greens topped with soba noodles, sun-dried tomatoes, cucumbers, feta, pine nuts and a lemon dressing.
Ingredients:
For the dressing:
2 tablespoons freshly squeezed lemon juice
1 tablespoon red wine vinegar
1 tablespoon honey
1 teaspoon dijon mustard
¼ teaspoon salt
freshly ground pepper, to taste
¼ cup olive oil
For the salad:
about 8 ounces soba noodles
½ to ¾ cup crumbled feta
⅓ to ½ cup sun-dried tomatoes, drained, patted dry and chopped
1 cucumber, peeled and chopped
¼ to ½ of a red onion, thinly sliced
⅓ to ½ cup pine nuts
about 5 ounces mixed greens
sesame seeds, for sprinkling
Directions:
To make the dressing – add the lemon juice, vinegar, honey, mustard, salt and pepper to a small bowl. Whisk to combine. Add in the olive oil and whisk vigorously until smooth. Set aside.
To make the salad – bring a pot of lightly salted water to a boil. Add in the soba noodles and cook until al dente (according to the package directions). Drain and then rinse well with cold water. Transfer the noodles to a medium bowl. Add in half of the dressing. Toss to combine.
In another medium bowl, add the feta, sun-dried tomatoes, cucumber, red onion and pine nuts. Toss to combine.
Add some of the mixed greens to each serving bowl. Top with some of the soba noodles and then some of the veggie mixture. Sprinkle with the sesame seeds. Drizzle with the reserved dressing as desired.
This would also be great with some sliced chicken, etc. to bulk it up even more.
Some of the amounts in the recipe are approximate since I feel like salads are like pizzas – everyone likes a different amount of toppings. I use the higher amounts but adjust to what you enjoy!