Apple Cinnamon Quinoa Breakfast Bowl
Perfectly cozy apple cinnamon quinoa breakfast bowl! With quinoa cooked in coconut milk, caramelized apples and pecans!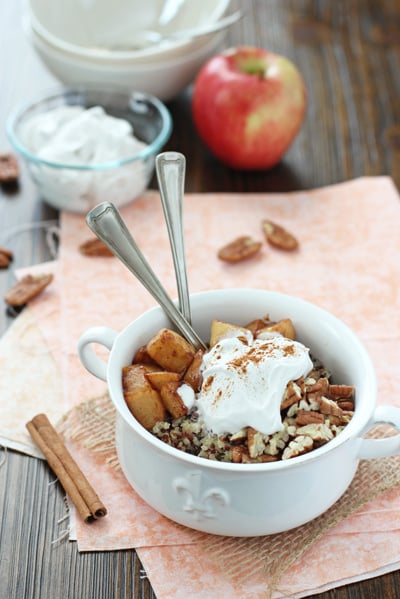 The air is a changin'. Well, at least a wee bit.
I will most certainly take the slightly cooler days where I don't instantly start sweating as soon as I walk outside. And! Even a few times on our nightly walks with the little beagle, I was actually quite comfortable! Guys – this is huge.
Which also means that I am starting to get back in the mood for hot oatmeal in the mornings. I've been boycotting it pretty much all summer. Smoothies have been my jam instead.
But lately – I can feel the itch. The time is coming. Oatmeal is calling my name.
But for now, I'm starting with a little transition. Ease myself gently back into the wonderful world of oatmeal. Which is where this delicious breakfast bowl comes in.
Plus, we have apples! And cinnamon! And quinoa! Oh my!
I can actually feel my sister rolling her eyes at me (oh hey sis!) as she reads this.
For the longest time I adamantly held my stance on how much I hated quinoa. She would tell me how awesome it is and I would shoot her right down.
But, um, it's just so hard to resist with this bowl.
About This Quinoa Breakfast Bowl
We have quinoa cooked in a bit of coconut milk to add a touch of creaminess (umm yum).
We have slightly caramelized apples with cinnamon and nutmeg (gimme gimme).
And then we have some chopped pecans and a touch of coconut milk whipped cream.
All combining into one glorious breakfast.
Additional Breakfast Recipes You Might Enjoy!
Did you make this recipe? Rate and review it down below! I'd love to hear from you.
Apple Cinnamon Quinoa Breakfast Bowl
Perfectly cozy apple cinnamon quinoa breakfast bowl! With quinoa cooked in coconut milk, caramelized apples, pecans and whipped coconut cream!
Ingredients
For the quinoa:
1 cup uncooked quinoa, rinsed
1 cup water
1 cup canned coconut milk
For the apples:
1 tablespoon olive oil (or butter)
2 medium-large apples, peeled, cored and chopped
1 tablespoon coconut sugar (or brown sugar)
½ teaspoon ground cinnamon
pinch of ground nutmeg
For serving:
chopped pecans
sprinkle of ground cinnamon and/or nutmeg
drizzle of pure maple syrup, if needed to sweeten
Instructions
For the quinoa:
Add the quinoa, water and coconut milk to a medium saucepan. Bring the mixture to a boil, give it a stir, cover, then reduce the heat to medium-low / low and let simmer for about 15 minutes, until the water is absorbed.
Turn off the heat and let the pan sit covered for 5 minutes, then fluff the quinoa with a fork.
For the apples:
Meanwhile, set a medium skillet over medium heat. Add in the olive oil. Once hot, add in the apples, sugar, cinnamon and nutmeg. Cook for about 15 to 18 minutes, stirring occasionally, until tender (and caramelized!). Remove from the heat.
To serve:
Spoon some of the quinoa into a bowl. Top with some of the apples, whipped cream, pecans and finally a sprinkle of cinnamon and/or nutmeg. If not sweet enough, drizzle with some maple syrup!
Notes
I prep all the components on the weekend when I have time and store in separate containers in the fridge. That way all you have to do is assemble and enjoy! I sometimes will add a splash of milk to the quinoa when reheating.
Nutrition Information:
Yield:

4
Serving Size:

1
Amount Per Serving:
Calories:

357
Total Fat:

18g
Saturated Fat:

12g
Trans Fat:

0g
Unsaturated Fat:

6g
Cholesterol:

0mg
Sodium:

13mg
Carbohydrates:

45g
Fiber:

5g
Sugar:

12g
Protein:

7g
Nutrition data shown is an estimate provided by an online calculator and is for informational purposes only. It should not be considered a substitute for a medical professional's advice.