Butternut Squash, Sausage and Spinach Enchiladas
These butternut squash, sausage and spinach enchiladas are the ultimate fall dinner! With a creamy butternut sauce, crumbled sausage, mushrooms and cheese, they are seriously delicious. Serve with a big salad for a complete meal.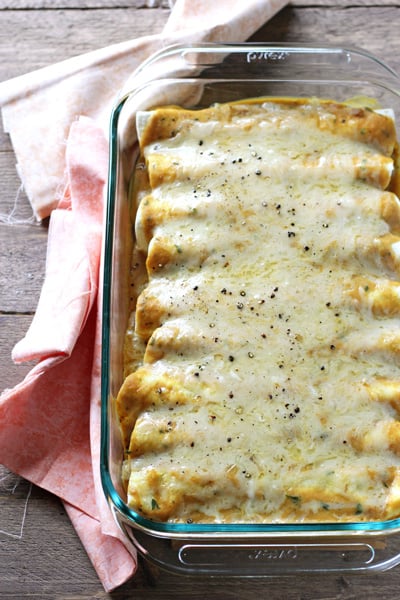 Note: This recipe is NOT dairy free. It was published before Cook Nourish Bliss transitioned to dairy free recipes and remains popular with long time readers. You can try using substitutions to make it dairy free, however I have not tested this myself and can't say how it will turn out.
And we're back to the butternut squash.
More specifically, creamy dreamy butternut squash sauce.
Like, very similar to this pasta skillet, but instead over enchiladas. Which makes these whoa baby good.
We've had them three times over the course of the last month. And I am now craving them yet again after looking at these pictures.
Because fall-inspired enchiladas may in fact be the best. thing. ever.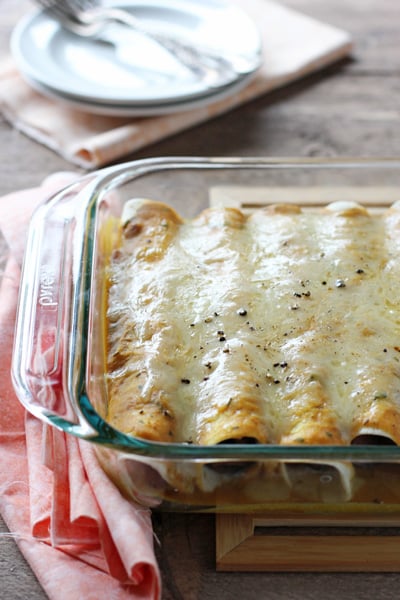 About These Fall Enchiladas
So, let's discuss these in further detail.
We have a super flavorful filling made up of crumbled sausage, red onion, spinach, mushrooms and some of that delicious butternut squash sauce we were talking about earlier.
You'll roll it all up in some tortillas and then smother them with more sauce and of course lots of cheese. I think the fontina works perfectly here, but you could definitely switch that out with something else.
This was one of those meals that the husband and I ate in complete silence … you know, because talking would interrupt the constant shoveling of enchiladas into your face.
Now like any delicious enchiladas, these do take a bit of time to make.
But nothing outrageous … you can definitely have them done in about one hour.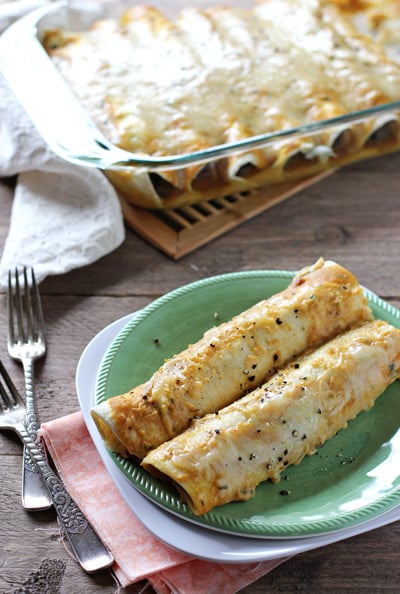 Additional Enchilada Recipes You Might Enjoy:
Did you make this recipe? Rate and review it down below! I'd love to hear from you.
Butternut Squash, Sausage and Spinach Enchiladas
Yield:
about 10 enchiladas
These butternut squash, sausage and spinach enchiladas are the ultimate fall dinner! With a creamy butternut sauce, crumbled sausage, mushrooms and cheese, they are seriously delicious. Serve with a big salad for a complete meal.
Ingredients
3 links pork sausage, casings removed
1 tablespoon olive oil
1 small red onion, chopped
2 cloves garlic, minced
8 ounces baby bella mushrooms, sliced
1 (10 ounce) package frozen spinach, thawed and squeezed dry
1 ½ cups butternut squash puree (homemade or store-bought)
1 cup 2% or whole milk
½ cup low-sodium vegetable broth
¼ teaspoon dried rosemary
¼ teaspoon dried thyme
¼ teaspoon salt
pinch of pepper
pinch of nutmeg
1 ¾ cups freshly grated fontina cheese, divided
9 to 10 whole wheat flour tortillas
Instructions
Preheat the oven to 400ºF.
Set a large skillet over medium / medium-high heat. Add in the sausage and cook until browned and cooked through (using a wooden spoon to break it up into smaller pieces as it cooks - if it's really sticking to the pan add a little olive oil - it will depend on how fatty the links are).
Use a slotted spoon to transfer the sausage to a large bowl. Set aside. Discard any drippings in the skillet (or keep 1 tablespoon of the drippings and use in place of the olive oil in the next step).
Set the same skillet over medium heat. Add in the olive oil. When hot, add in the onion and cook for about 2 minutes, until it starts to soften. Add in the garlic and cook for 30 seconds, until fragrant.
Add in the mushrooms and cook for about 4 to 5 minutes, until tender and they have released most of their juices. Add in the spinach and cook for about 30 seconds to 1 minute, sort of breaking it up as you go, until warmed through. Transfer this mixture to the bowl with the sausage and set aside.
Set the same skillet back over medium heat. Add in the butternut squash puree, milk, broth, rosemary, thyme, salt, pepper and nutmeg. Mix until well combined then bring the mixture to a gentle simmer (increasing the heat slightly).
Let the mixture simmer gently for about 2 to 4 minutes, stirring fairly often, until it thickens up a bit (you still want it to be sauce-y). Turn off the heat. Add in ½ cup of the fontina and mix until melted into the sauce.
Add ½ cup of the sauce to the bowl with the sausage and veggies and mix to combine. Taste and season with salt / pepper if needed.
Heat the tortillas for about 30 seconds in the microwave so that they are pliable. Pour ½ cup of the sauce into the bottom of a 9x13 inch baking dish. Tilt the pan back and forth so that the sauce coats the bottom.
Place a tortilla on a work surface. Scoop about a heaping ⅓ cup of the filling and place in a line down the center of the tortilla. Roll the tortilla up tightly and transfer to the prepared baking dish with the seam-side down. Repeat this process with the remaining tortillas and filling.
Evenly pour the remaining sauce (about 1 ¼ to 1 ½ cups) over the top of the enchiladas. Sprinkle with the remaining cheese.
Cover the pan with foil and bake for about 10 minutes. Remove the foil and then return to the oven to bake for 5 additional minutes.
Remove from the oven and let cool for 5 to 10 minutes before serving.
Nutrition Information:
Yield:

10
Serving Size:

1
Amount Per Serving:
Calories:

314
Total Fat:

14g
Saturated Fat:

6g
Trans Fat:

0g
Unsaturated Fat:

7g
Cholesterol:

32mg
Sodium:

541mg
Carbohydrates:

35g
Fiber:

4g
Sugar:

3g
Protein:

13g
Nutrition data shown is an estimate provided by an online calculator and is for informational purposes only. It should not be considered a substitute for a medical professional's advice.