Arugula, Prosciutto and Goat Cheese Open-Faced Sandwich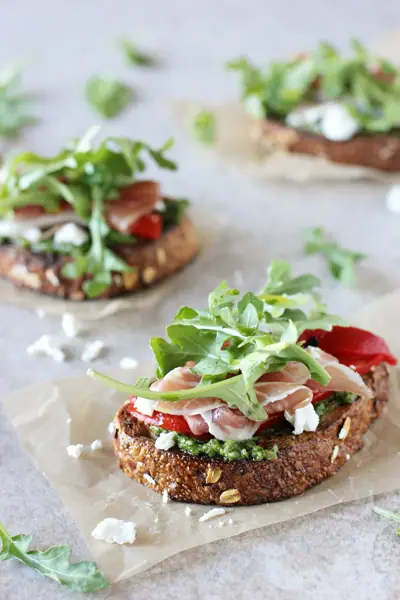 While the weather seems to be totally fickle lately, I feel like it's okay for me to start sharing lots of spring-like recipes with you. Because even if Mother Nature isn't cooperating with my foodie plans, well, at least we can start eating like it's spring! Bundled up in a sweatshirt. Hmmm.
And I've been waiting to share these arugula, prosciutto and goat cheese open-faced sandwiches with you for what feels like months. There is just something about them that screams spring and summer to me, even though I feel like these would be completely acceptable to eat any time of the year.
But the planner in me insisted that we wait. And finally it's time. It. Is. Time.
So let me introduce you to your new favorite quick and easy dinner or even a go-to lunch option. I also think these would be pretty fantastic as an appetizer or part of a brunch. Like for Easter! I can't believe Easter is about to sneak up on us. Madness. But I'm getting sidetracked. Focus!
All the components for the sandwiches (and by components I mean making a quick pesto and chopping up some roasted red peppers) can be made ahead of time and stored in separate containers in the fridge. So all you really need to do is assemble when you're ready … and then shove them in your face.
So let's discuss these components:
1. A slightly spicy arugula pesto made with arugula (duh), spinach and sunflower seeds.
2. Crusty, thick-cut bread (multigrain all the way!).
3. Tangy, delicious roasted red peppers.
4. Goat cheese. Enough said.
5. Salty prosciutto.
6. And more arugula for a pop of freshness, color and bite.
So easy, yet so delicious AND you don't even have to turn on your oven or stove. <— Now that's a huge win right there.
They pair perfectly with some sparkling water. I know this from lots and lots of experience.
Yield: just under ¾ cup pesto
Arugula, Prosciutto and Goat Cheese Open-Faced Sandwich
Prep Time: 15 minutes
Cook Time: 0 minutes
Total Time: 15 minutes
A quick and easy 15-minute recipe for arugula, prosciutto and goat cheese open-faced sandwich. With a homemade arugula pesto.
Ingredients:
For the pesto:
2 cups lightly packed arugula
½ cup lightly packed baby spinach leaves
¼ cup unsalted sunflower seeds
2 tablespoons freshly grated parmesan cheese
1 clove garlic, minced
¼ to ½ teaspoon salt (to taste)
⅓ cup olive oil
For assembling:
toasted thick-cut bread slices (I like multigrain!)
sliced roasted red peppers
crumbled goat cheese
prosciutto
arugula
olive oil, for drizzling
Directions:
To make the pesto:
Add the arugula, spinach, sunflower seeds, parmesan, garlic and salt to the bowl of a food processor. Pulse until finely chopped. With the food processor running, slowly pour in the olive oil. Process until smooth. If you want to thin out the pesto, add in additional olive oil a little at a time.
To assemble:
Smear a thin layer of pesto on a piece of the toasted bread. Top with some of the roasted red peppers, goat cheese, prosciutto and a small handful of arugula. Drizzle lightly with olive oil and serve immediately!
I didn't list quantities for assembling since with sandwiches I've found that everyone's preferences really vary! Use however much you would like!
Cook Nourish Bliss. Inspired by a dish at a local restaurant – Glass Half Full.