Roasted Berry and Ricotta Crostini
Recipe for roasted berry and ricotta crostini. A simple yet impressive dish perfect for brunch or dessert! With roasted assorted berries and honey.
Crostini. The ultimate fancy pants appetizer, dessert, brunch dish, whatever.
I don't know what it is about them, but every single time I make some sort of crostini for a party or gathering, I constantly get "you so fancy!" or "whoa look at this!"
But here's the thing. In most cases, they take very little effort to put together. Simple. Easy. Nothing fancy at all.
So while I am smiling and nodding on the outside, I'm really chuckling on the inside. It's my little secret (apparently not so secret anymore).
So if you are looking to impress but don't feel like putting in a whole lot of effort, crostini are where it's at.
Maybe it's the name. Crostini does sound all fancy.
Roasted Berries
But anyway, let's direct our attention to these roasted berry and ricotta crostini for today.
At least by where I live, berries are starting to come back but they are not quite at the peak of their deliciousness. Like during summer.
But. I wanted to make some sort of crostini that would be perfect for a brunch (hello Easter!) and really wanted to use berries.
And since they aren't quite amazing yet, the solution was to roast! With a touch of honey and lemon, it really brings out the best in the berries. You won't even realize that they aren't fully in season.
And don't worry, the hardest part about roasting berries is chopping up the strawberries. The process is really quite hands off.
Components For These Berry Ricotta Crostini
Now, the other components are simple as well.
We'll toast some bread in the oven until crunchy and golden brown, and mix together some ricotta and honey. I've also seen pre-made crostini (i.e. the bread portion) at a local store – so if you can find that by you, you can even skip the toasting the bread step.
And then all you have to do is assemble and eat! I usually like to let guests assemble themselves, so they can decide how much ricotta, berries, honey, etc. they want on their crostini. Plus, that also means less work for you.
These make for a killer brunch option or even a lightly sweet dessert.
Additional Appetizer Recipes You Might Enjoy!
Did you make this recipe? Rate and review it down below! I'd love to hear from you.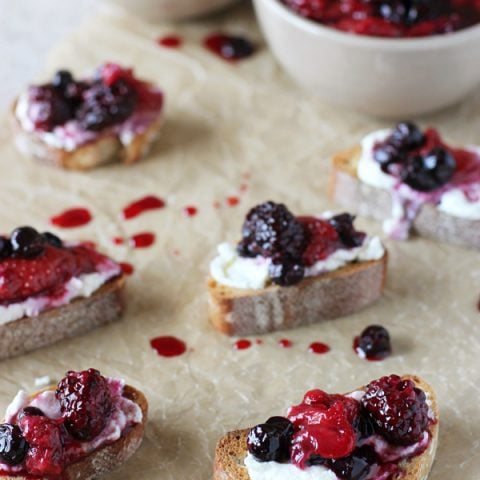 Roasted Berry and Ricotta Crostini
Yield:
about 10 to 12 servings
Recipe for roasted berry and ricotta crostini. A simple yet impressive dish perfect for brunch or dessert! With roasted assorted berries and honey.
Ingredients
For the berries:
16 ounces strawberries, hulled and cut in half (quartered if large)
6 ounces blackberries
6 ounces blueberries
2 tablespoons olive oil
1 tablespoon honey
pinch of salt
juice of half a lemon
For the crostini:
1 (about 13 ounce) baguette, cut into ½ to ¾ inch thick slices
olive oil, for brushing
For the ricotta:
1 cup ricotta cheese (strained if it is watery)
1 tablespoon honey
pinch of salt
To finish:
honey, for drizzling (optional)
Instructions
For the berries:
Preheat the oven to 400ºF.
Add the strawberries, blackberries and blueberries to a 9x13 inch baking dish. Drizzle with the olive oil and honey, then sprinkle with the salt. Toss to combine and spread in an even layer.
Bake for about 20 to 25 minutes, stirring once halfway through, until nice and tender. The berries should have released quite a bit of their juices. Squeeze the lemon juice over the berries and toss gently.
Set aside to cool. Maintain the oven temperature.
For the crostini:
Place the baguette slices in a single layer on a large baking sheet lined with parchment paper. Lightly brush each with some olive oil.
Bake for about 10 to 15 minutes, until toasted and golden brown (keep an eye on them so you don't burn them!).
Remove from the oven and set aside to cool slightly.
For the ricotta:
In a small bowl, mix together the ricotta, honey and salt until well combined.
To serve:
Smear some of the ricotta onto a crostini. Top with a scoop of the roasted berries (using a slotted spoon to get rid of the excess juices) and a drizzle of honey (if using). Serve!
Notes
If you make this during peak berry season, you could certainly skip roasting the berries. Instead just pile some fresh fruit right on top of the ricotta mixture! I personally love roasting berries even in the summer though - it makes them so soft and a little jam-like!
You can make the berries and the ricotta mixture ahead of time. Just store in separate airtight containers in the refrigerator. I prefer the bread freshly toasted, but I have found that it does stay okay for about 24 hours after baking (stored in an airtight container or baggie).
Nutrition Information:
Yield:

12
Serving Size:

1
Amount Per Serving:
Calories:

159
Total Fat:

5g
Saturated Fat:

1g
Trans Fat:

0g
Unsaturated Fat:

3g
Cholesterol:

6mg
Sodium:

184mg
Carbohydrates:

24g
Net Carbohydrates:

0g
Fiber:

2g
Sugar:

8g
Sugar Alcohols:

0g
Protein:

6g
Nutrition data shown is an estimate provided by an online calculator and is for informational purposes only. It should not be considered a substitute for a medical professional's advice.