Breakfast Calzones
Recipe for simple and easy breakfast calzones. Filled with scrambled eggs, pico de gallo, peppers and cheese! Perfect for brunch!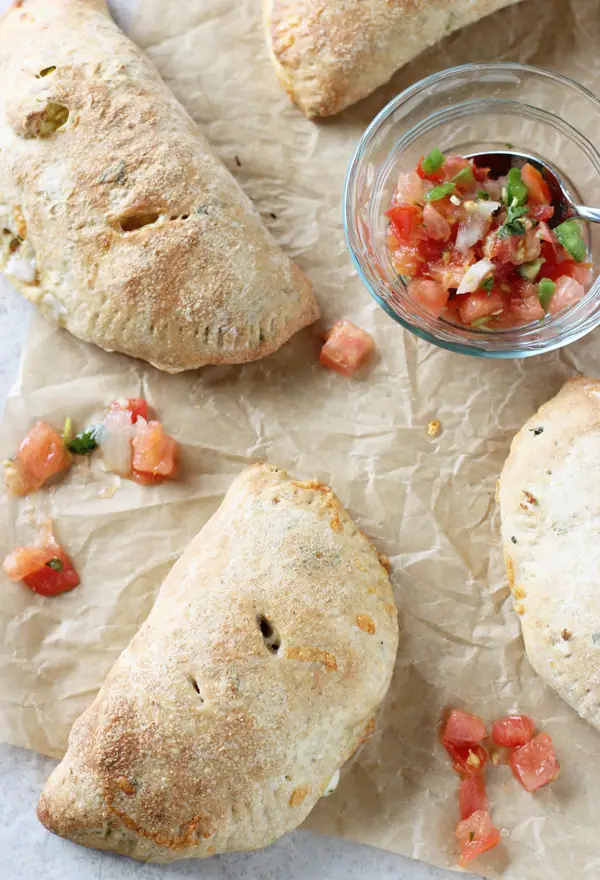 Cute, adorable, individual breakfast calzones. Now that's the way to kick off a Monday morning. Along with a big cup of coffee. With some half and half please ♥
Now if only that was the way I was ACTUALLY starting this Monday morning. Now that would be pretty sweet.
But, in reality, pretty much all my weekday mornings consist of a giant steaming mug of coffee, a green smoothie and emails. Lots and lots of emails.
But let's just pretend for now. We'll pretend it's still the weekend and we are enjoying these cheesy, egg-y calzones.
Although, if I had brought my A-game, I would have made these yesterday, wrapped them up in foil and then just reheated them in the oven for breakfast today.
Which is actually why I am sharing this recipe with you now.
As much as I love a special weekend breakfast, I was thinking that these calzones would also be an egg-cellent (like what I did there?) addition to a brunch. Like for Easter!
While I certainly prefer calzones fresh and piping hot right out of the oven, they do reheat really well.
So, you can make these a day ahead and then just warm them back up (in the oven of course) for brunch. And trust me, you'll have plenty of fans if you serve up these little guys for brunch.
Scrambled eggs + pico de gallo + green pepper / red onion + cheeeeese. And a chewy, crispy crust.
You just cannot go wrong with that combo right there. I would also definitely suggest serving these with some extra pico de gallo on the side.
And of course some coffee. But we already discussed that.
Or! You can do these as a breakfast-for-dinner sorta thing. But that is not allowed in our house. Husband's rules. Silly silly.
Additional Egg Recipes You Might Enjoy!
Did you make this recipe? Rate and review it down below! I'd love to hear from you.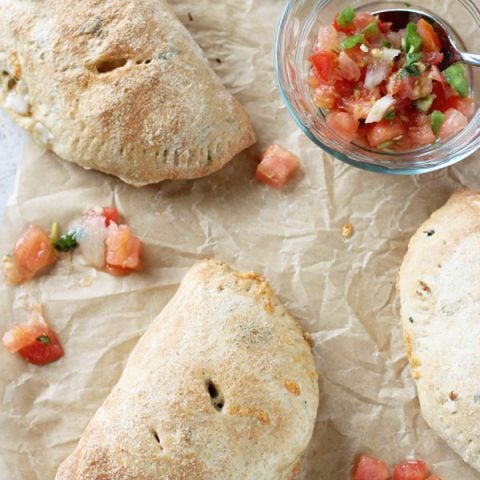 Breakfast Calzones
Yield:
4 individual calzones
Recipe for simple and easy breakfast calzones. Filled with scrambled eggs, pico de gallo, peppers and cheese! Perfect for brunch!
Ingredients
1 ball pizza dough
½ cup thinly sliced red onion
¼ cup diced green pepper
3 large eggs, cooked until scrambled and cooled slightly
½ cup pico de gallo, plus extra for serving if desired
½ cup freshly shredded pepper jack cheese
½ cup freshly shredded sharp cheddar cheese
olive oil, for brushing
Instructions
Preheat the oven to 500ºF. Place a pizza stone in the oven and allow the stone to heat for at least 15 minutes.
Place the pizza dough on a lightly floured surface and allow to relax for about 10 minutes (but no longer than 30). Split the dough into four equal pieces and shape each into a circle that is about 5 inches in diameter.
Towards one half of each circle of pizza dough, add some of the red onion, green pepper, scrambled eggs, pico (using a slotted spoon to get rid of the juices) and both kinds of cheese. They will look full, but the pizza dough stretches nicely over the top!
Stretch and fold the other half of the pizza dough over the top to cover the filling to form a semicircle. Press the edges of the dough together to seal, then use a fork to crimp the edges. Repeat with all of the calzones. Brush the tops of the calzones lightly with olive oil, then cut a few small slits in the top of each so they can vent.
Cut a piece of parchment paper to about the size of your pizza stone and sprinkle lightly with cornmeal. Transfer the calzones to the parchment and then carefully transfer the parchment to the preheated pizza stone (or place the parchment on the stone and then place the calzones on top).
Bake until the calzones are golden brown, about 11 to 13 minutes. Let cool for at least 15 minutes before slicing and serving (the filling will be very hot so be careful!).
Serve with additional pico de gallo if desired.
Notes
Season the scrambled eggs to your liking with salt and pepper before adding to the calzones.
As with all pizzas, feel free to adjust the amount of the fillings to your own taste. This is what I use but it may vary slightly with the exact size of your pizza dough, your preference, etc.
Prep time includes time to preheat the oven and allow the pizza stone to heat.
Nutrition Information:
Yield:

4
Serving Size:

1
Amount Per Serving:
Calories:

210
Total Fat:

14g
Saturated Fat:

7g
Trans Fat:

0g
Unsaturated Fat:

6g
Cholesterol:

168mg
Sodium:

334mg
Carbohydrates:

9g
Net Carbohydrates:

0g
Fiber:

1g
Sugar:

3g
Sugar Alcohols:

0g
Protein:

13g
Nutrition data shown is an estimate provided by an online calculator and is for informational purposes only. It should not be considered a substitute for a medical professional's advice.