Green Goddess Cucumber Tomato Salad
Recipe for quick & easy cucumber tomato salad. With fresh tomatoes, cucumbers & a green goddess dressing lightened up with greek yogurt & avocado!
With the amount that I cook, you would think I would have upped my side dish game by now. But no. It's always the same old roasted veggies or side salad with fruit and nuts. Over and over and over. And over.
So today I bring you this cucumber tomato salad, with the hope that maybe I'll manage to at least work this recipe into our side dish rotation…
For a grand total of three dishes to choose from on a regular basis.
Please tell me I'm not the only one who struggles with this?
I secretly love meals that don't require a side dish … like fried rice or burrito bowls. At least then I don't even have to think about it.
Because it is the bane of my existence. When I meal plan, I sit there for you don't even want to know how long trying to come up with creative options to go with our dinners. And it never happens.
To the point where my husband actually groans when he sees the same side salad for the third time in a week. Secretly I'm doing the same thing but clearly I could never admit that.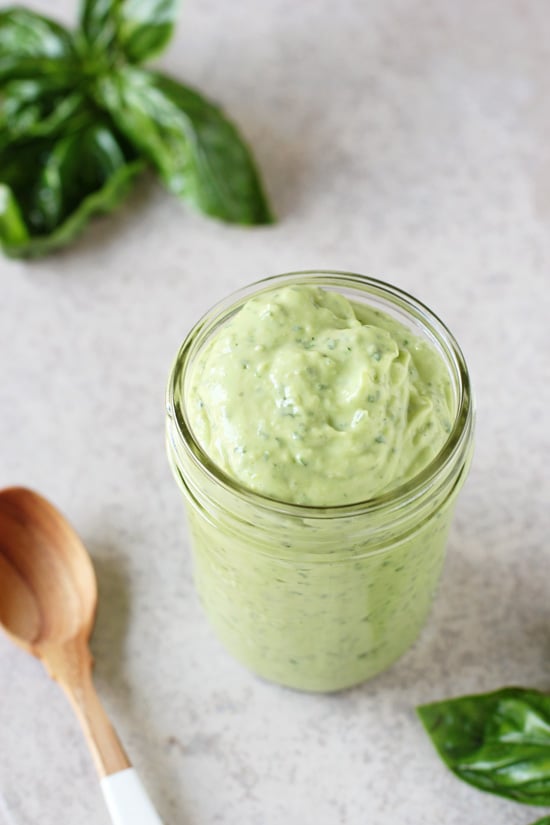 Lightened Up Green Goddess Dressing
Since it is July and summer produce is all around us, I finally switched it up with this little number.
Although, the husband made fun of it when I announced that it was topped with a green goddess dressing. He was all, what the heck is that name.
But it's a thing! I swear! And it's also just kind of fun to say.
So! Let's start with this infamous green goddess dressing. We are making a lightened up version, featuring greek yogurt and quite possibly one of my favorite foods ever: avocado.
It's creamy and dreamy and packed full of tons of flavor from green onions and fresh herbs. Yummy in my tummy. Apparently I'm five years old today.
Green Goddess Cucumber Tomato Salad
Moving along … the actual salad part of this dish is incredibly simple.
Some juicy fresh tomatoes. Some crisp cucumbers. A touch of red onion, olive oil and fresh dill.
We toss them all together in a bowl, scoop it onto a serving plate and drizzle with that pretty green dressing.
And I can feel like I'm winning at the side dish game.
Or at least that's what I'll tell myself.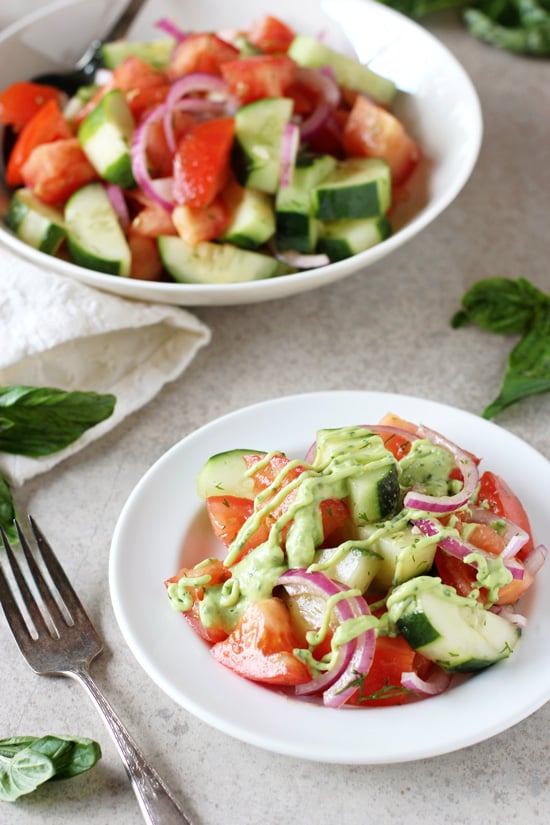 Additional Salad Recipes You Might Enjoy!
Did you make this recipe? Rate and review it down below! I'd love to hear from you.
Green Goddess Cucumber Tomato Salad
Recipe for quick & easy cucumber tomato salad. With fresh tomatoes, cucumbers & a green goddess dressing lightened up with greek yogurt & avocado!
Ingredients
For the dressing:
1 medium ripe avocado, pitted and roughly sliced
¼ cup plain greek yogurt
⅓ cup olive oil
1 tablespoon freshly squeezed lemon juice
1 tablespoon honey
1 clove garlic, minced
¼ teaspoon salt
pinch of pepper
¼ cup thinly sliced green onion
¼ cup loosely packed fresh parsley
¼ cup loosely packed fresh basil leaves
For the salad:
3 large tomatoes, cut into chunks
2 medium cucumbers, cut into chunks (peeled if desired)
½ of a small red onion, thinly sliced
1 tablespoon olive oil
1 tablespoon minced fresh dill
Instructions
To make the dressing:
Add all of the ingredients for the dressing to the bowl of a food processor. Process until smooth. If needed, add a little extra olive oil to get the dressing to thin out to your liking (it's fairly thick as written).
To make the salad:
Add the tomatoes, cucumbers, red onion, olive oil and dill to a large bowl. Toss gently to combine. Scoop the desired amount of salad onto a serving plate and drizzle with the dressing (as much or as little as you like!). Serve immediately.
Notes
Store the dressing and salad in separate containers in the fridge. The salad part will accumulate liquid at the bottom after sitting, so just be sure to use a slotted spoon when you go to serve.
Nutrition Information:
Yield:

6
Serving Size:

1
Amount Per Serving:
Calories:

228
Total Fat:

19g
Saturated Fat:

3g
Trans Fat:

0g
Unsaturated Fat:

16g
Cholesterol:

0mg
Sodium:

103mg
Carbohydrates:

13g
Fiber:

4g
Sugar:

7g
Protein:

3g
Nutrition data shown is an estimate provided by an online calculator and is for informational purposes only. It should not be considered a substitute for a medical professional's advice.