Smoothie Freezer Packs + Prep Ahead Tips
Short on time in the morning? Learn how to make smoothie freezer packs! With helpful tips and tricks, you'll have your freezer stashed in no time. Plus, a recipe for our go-to berry breakfast smoothie. Dairy free, gluten free and vegan.
Just like that, it's officially summer. Which means, it's also smoothie season!
And as evidenced by the post title, today is all about planning and prepping ahead.
So! Let's get personal. We get up super early at our house due to the husband's work schedule. We're talking alarms go off at ungodly hours. Which means I am also up making breakfast at ungodly hours, sometimes even before the coffee has a chance to kick in.
Before this whole schedule started, I used to be one of those people who just didn't quite understand the point of smoothie packs. I mean, smoothies only take a few minutes to make, what's the big deal?
But, quite frankly, they now save the day.
Are you short on time in the morning? Don't want to rifle around and pull out a bunch of different ingredients to make a smoothie? Just don't have a fully functioning brain at that time of day?
Smoothie packs are for you! So, let's discuss.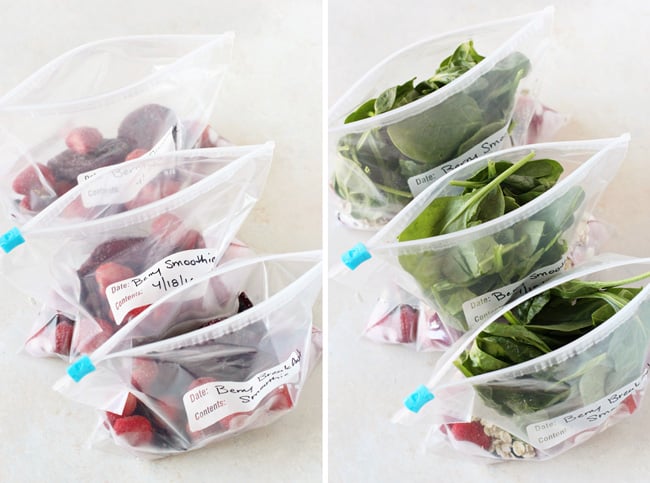 Before we start, I should mention that I like to stick to simple recipes when it comes to smoothie packs.
Usually recipes that contain the following: fruit (anything goes), leafy greens (usually spinach or kale), milk (for me, unsweetened vanilla almond milk), and then a few extras (like chia seeds or flax, oats, sweetener and things like fresh ginger).
How To Make Smoothie Freezer Packs
Decide what smoothies you're going to make and take out the required fruit, oats (if applicable) and greens.
To each individual freezer-safe plastic baggie, scoop in the required amount of fruit, oats and greens for one smoothie (or two if you're like me and making for two people).
Squeeze out as much air as possible before sealing.
If you don't know the recipe by heart, write anything else that you'll need to add to the blender in the morning directly on the bag (like how much milk, etc.).
Store in the freezer.
When ready to drink, add the milk (or whatever liquid you're using) to the blender first. Then add in the smoothie pack contents, along with any extra add-ins (like chia seeds or sweeteners). I like to use my fingers to break up the greens a bit in the baggie before adding to the blender. If you don't have a high powered blender, you may need to add a little extra liquid than what's listed in the recipe to get it moving. It will just depend.
Smoothie Freezer Pack Tips
I always use frozen fruit. It just makes my life so much easier (and makes assembling the packs so much easier). If you are using fresh fruit, I'd recommending freezing cut up fruit in a single layer first (and then adding to the bags) – this will prevent it all from freezing together in clumps.
While I always add chia seeds, flax seeds and honey to my smoothies, I don't put any of this in the freezer packs (the seeds tend to stick to the bags).
I tend to make the packs one week at a time, but if you are planning on making them further in advance it may be helpful to write a date on each of the bags.
I use freezer-safe quart sized plastic baggies and they work great in my freezer (I don't have space for glass jars or containers). And I reuse the baggies a couple of times.
Have fun! I like to make a variety of smoothies each week to keep things interesting.
Before I go, let's talk a few more things.
Additional Prep Ahead Tips
This may sound silly, but I try to keep everything for smoothies in one part of the fridge. This way I'm not shuffling around trying to find things in the morning. So for example, I keep the milk near my chia seeds, flax seeds and other add-ins (see next point).
About those other add-ins – things like minced ginger, or even sliced cucumber, I don't like to freeze with the actual packs. So I just chop or mince up whatever I'll need on the weekend and store in a container in the fridge so it's ready to go.
You could also pre-portion out add-ins like chia seeds and flax seeds, so they are easy to just dump in the blender in the am.
And with that, I'm done talking. The husband's favorite berry smoothie is down below. For your smoothie enjoyment.
Additional Smoothie Recipes You Might Enjoy:
Did you make this recipe? Rate and review it down below! I'd love to here from you.
Berry Breakfast Smoothie
Short on time in the morning? Learn how to make smoothie freezer packs! With helpful tips and tricks, you'll have your freezer stashed in no time. Plus, a recipe for our go-to berry breakfast smoothie. Dairy free, gluten free and vegan.
Ingredients
2 ½ cups unsweetened vanilla almond milk
1 cup frozen whole strawberries
¼ cup frozen wild blueberries
¼ cup frozen sliced beets
¼ cup old-fashioned rolled oats
1 heaping cup packed baby spinach leaves
2 tablespoons chia seeds
2 tablespoons ground flaxseed
½ cup peeled and sliced cucumber
heaping 1 tablespoon minced fresh ginger
2 to 3 tablespoons pure maple syrup or honey, to taste*
Instructions
Add all of the ingredients to a blender. Process until completely smooth. If needed, add additional milk to help get everything going in the blender. Serve immediately.
Notes
*To keep this vegan - use the pure maple syrup and not the honey.
For this smoothie, I add the strawberries, blueberries, beets, oats and spinach to the freezer packs. Everything else gets added in the morning when blending.
Nutrition Information:
Yield:

2
Serving Size:

1
Amount Per Serving:
Calories:

325
Total Fat:

12g
Saturated Fat:

1g
Trans Fat:

0g
Unsaturated Fat:

10g
Cholesterol:

0mg
Sodium:

91mg
Carbohydrates:

50g
Fiber:

14g
Sugar:

25g
Protein:

10g
Nutrition data shown is an estimate provided by an online calculator and is for informational purposes only. It should not be considered a substitute for a medical professional's advice.