Strawberry Oatmeal Chia Smoothie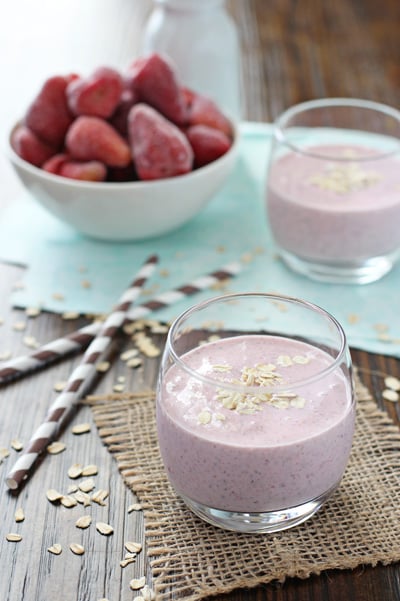 Smoothie time!  Today we're talking part two of getting rid of the breakfast rut blues.  As well as my current obsession with chia seeds.  We have always used quite a bit of flaxseed at our house but I never really even thought about chia seeds until the last few months when I started noticing recipes on other blogs.
Apparently I live under a rock.  Foodie fail.  Which was proven very apparent when I went to buy my first bag and the grocery store check-out lady proceeded to tell me all the things I could do with them and I just stood there nodding my head and going "oh really? cool!"
Although I did feel better when I got home.  Anytime I pull them out my husband just makes some crack about the chia pets from years ago and sings that song from the commercials (which by the way is now permanently stuck in my head.  Thank you very much).  Buttt.  His response made me feel better.  At least I knew you could eat them!  Sucker.
Anywho, smoothies!  Now that it's actually been warmer outside I've finally felt like smoothies again for breakfast.  And this one right here?  It totally reminds me of those strawberries and cream oatmeal breakfast packets that I used to eat an obscene amount of as a kid.  I would freak out on my mom if we didn't have any in the pantry for breakfast.  Not my finest moments.
So let's be clear here – you can definitely taste the oats in this smoothie.  And the strawberries.  It's a creamy, nice and thick smoothie that fills me up nicely and actually holds me over until my morning snack time.  Which for most people would probably mean that it will hold you over to lunch.  What can I say, I like my snacks.
One word to the wise – don't let this smoothie sit for too long before you drink it – the chia seeds make it get superrrrr thick if you let it sit for a while (i.e. you spend 30 minutes taking photos and then try to drink it and realize it's so thick that it barely moves when you tilt the glass to take a sip).  But it will be just fine if you consume it like a normal person would : )
And beware.  You'll be seeing more chia seeds in the future.  You didn't think I would forget about them now, did you?
Chi chi chi chia! (please make it stop).
Yield: 1 large smoothie (or 2 small)
Strawberry Oatmeal Chia Smoothie
Recipe for strawberry oatmeal chia smoothie. A creamy, thick smoothie filled with ground oats, frozen strawberries and chia seeds. Healthy and satisfying!
Ingredients:
½ cup rolled oats
1 cup frozen strawberries
¾ cup milk of your choice
¼ cup plain greek yogurt
1 tablespoon chia seeds
about 1 tablespoon honey
1 teaspoon vanilla extract
Directions:
Add the oats to a blender. Process until finely ground, about 15 seconds.
Add the rest of the ingredients to the blender and process until the mixture is completely smooth. Adjust with additional honey if needed to achieve desired sweetness. Serve immediately.
As noted above, the chia seeds will make the smoothie get very thick if you let it sit for a while before drinking, so be sure to enjoy the smoothie right after you blend it up!
I've also been known to throw in a handful of baby spinach leaves. You won't even taste them!