Cold Busting Orange Carrot Smoothie
Let's continue this week of cold fighting recipes, shall we?!
With this cold busting orange carrot smoothie! It's nourishing, it's zippy, it's creamy!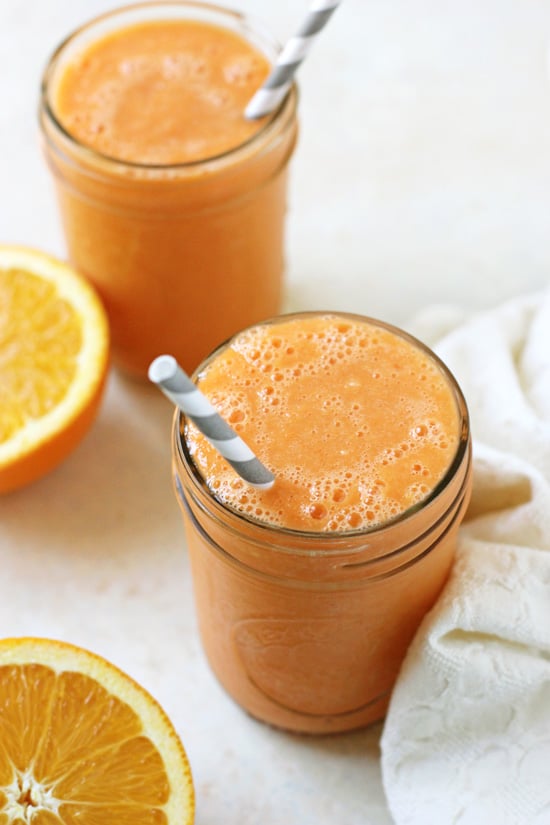 Man, that was a lot of exclamation points right there. What can I say, I tend to get a wee bit too excited about food. Especially when it's so bright and cheery and colorful!
And today's smoothie? Definitely happened several times during that dreadful, aforementioned plague.
Now, I typically make smoothies with various fruits and greens, but lately I've been switching things up with other veggies. Because we all need some variety in our lives, yes??
And this bad boy? The carrot, orange and mango make it a great source of vitamin A, vitamin C, and beta-carotene (among others), which all help keep your immune system healthy. AND you get the added little boost from some fresh ginger, which always seems to help whenever I'm feeling a little under the weather.
Plus, it's pretty darn tasty as well. Bright, fresh and plenty sweet just from the fruit itself!
So, let's get to a few brief tips & tricks for this smoothie.
Do not skip the dash of ground cinnamon! Because oh is it fantastic with all the other flavors! It adds the perfect warming wonderfulness. <— Totally not a grammatically correct sentence but we're going with it!
As with all smoothies, feel free to play around with the ratio of ingredients. In this case, specifically the amount of almond milk and ice cubes. You can adjust to get it to the consistency of your choice.
So … apparently theme weeks are my new thing. Last week, we had game day inspired recipes. This week, the cold fighting stuff. And next? Valentine's day! <— well, sorta. You'll see what I mean. Cliff hanger! Until next time…
Yield: 2 small or 1 extra-large smoothie
Cold Busting Orange Carrot Smoothie
Prep Time: 5 minutes
Cook Time: 0 minutes
Total Time: 5 minutes
This cold busting orange carrot smoothie is nourishing, zippy and creamy! Packed with vitamins, it will help keep your immune system healthy!
Ingredients:
1 medium orange, peeled and segmented
¾ cup peeled and chopped carrot (about 2 medium carrots)
¾ cup frozen mango chunks
½ to 1 tablespoon minced fresh ginger (to taste)
good dash of ground cinnamon
1 cup unsweetened vanilla almond milk
handful of ice cubes, as needed
Directions:
Add the orange, carrot, mango, ginger, cinnamon and milk to a blender and process until smooth. Add ice cubes as desired to thicken it up / make it more frosty. Serve immediately!
I don't find I need any sweetener in this smoothie, but you could absolutely add some if desired.