Arugula Pesto Pizza with Herbed Ricotta
This arugula pesto pizza is an awesome way to switch up your dinner routine! With a crispy crust, herbed ricotta, walnuts and lemon zest, it's fresh, herby and cheesy. Vegetarian.
Note: This recipe is NOT dairy free. It was published before Cook Nourish Bliss transitioned to dairy free recipes and remains popular with long time readers. You can try using substitutions to make it dairy free, however I have not tested this myself and can't say how it will turn out. Or, you can try this killer cheese-free pizza instead!
It's Monday morning and we're kicking the week off on the right foot with this arugula pesto pizza. And goodness me are you going to love it.
Well, at least we fell head over heels for it. This may have something to do with the fact that I am on a pesto bender. I tend to forget about any sort of pesto all winter long and then bam! Summer hits and I can't stop making it.
We also know that I have a very all or nothing personality when it comes to food and get on kicks like no other. So there's that too.
Which would also explain why I decided it was a good idea to make four balls of my herbed whole grain pizza dough last week.
Because clearly one batch wouldn't do and I needed to be prepared for a pizza emergency of epic proportions? On the plus side I do now have enough dough in my freezer for four large pizzas, so that's cool.
And yes, this dough making extravaganza was after I tested today's recipe multiple times. I guess we can officially say I'm also on a pizza bender.
How To Make Arugula Pesto Pizza
But. Let's discuss this pizza specifically. Because oooo baby is it good.
Lately I have been all about pizzas that don't have traditional red sauce. It just doesn't interest me at the moment.
So here we start with an arugula pesto, which you'll smear all over the dough just like you would a regular sauce. It has a touch of that sort of spicy kick from the arugula – but nothing crazy.
We'll quickly mix together ricotta cheese with fresh basil and parsley and a few other seasonings. This mixture is then dropped in small spoonfuls over the top of the pizza (which we'll sprinkle first with some mozzarella).
Some chopped walnuts are added as well and then into the piping hot oven the pizza goes!
After the pizza bakes up and makes the house smell all awesome, we'll sprinkle a touch of lemon zest over the top for some brightness and then finish with a few handfuls of arugula, for even more freshness.
Resulting in a fantastic pizza that you may in fact polish off between two people. Not that we know anything about that.
And now I feel like pizza again. Those four balls of dough in my freezer may just be put to use sooner rather than later.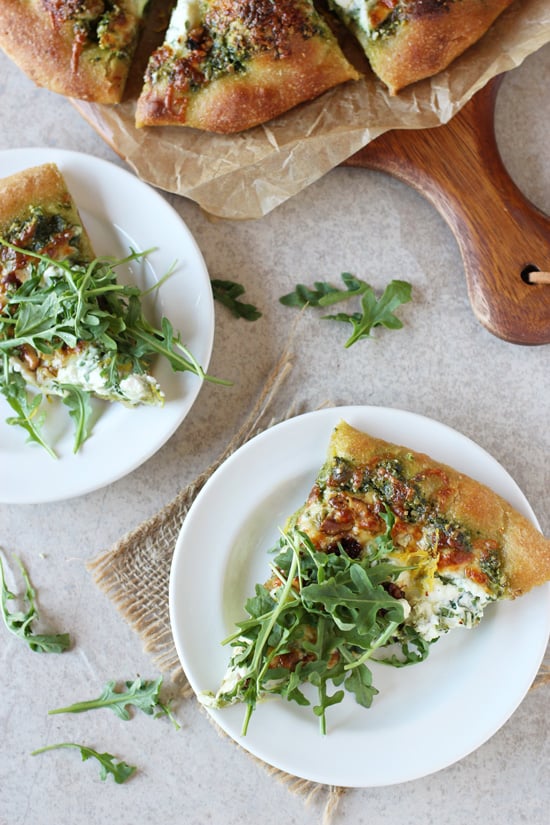 Additional Pizza Recipes You Might Enjoy:
Did you make this recipe? Rate and review it down below! I'd love to hear from you.
Arugula Pesto Pizza with Herbed Ricotta
This arugula pesto pizza is an awesome way to switch up your dinner routine! With a crispy crust, herbed ricotta, walnuts and lemon zest, it's fresh, herby and cheesy. Vegetarian. 
Ingredients
½ cup ricotta cheese, strained if watery
1 tablespoon minced fresh basil
1 tablespoon minced fresh parsley
½ teaspoon honey
pinch of salt
pinch of red pepper flakes
olive oil, for brushing
1 ½ cups freshly shredded mozzarella cheese
⅓ cup raw walnut halves, chopped
zest of 1 medium lemon
2 cups lightly packed arugula
Instructions
Preheat the oven to 500ºF. Place a pizza stone in the oven and allow the stone to heat for at least 15 to 20 minutes (if you can do 30, even better!).
Place the pizza dough on a lightly floured surface and allow to relax for about 10 minutes (but no longer than 30).
Roll out and shape the dough and then transfer to a piece of parchment paper cut to about the size of your pizza stone that has been lightly dusted with cornmeal.
Meanwhile, make the pesto recipe linked above. Set aside.
In a small bowl, add the ricotta, basil, parsley, honey, salt and red pepper. Mix until combined. Set aside.
Brush the pizza dough all over lightly with the olive oil. Scoop the pesto onto the dough and smear evenly all over, leaving a border around the edge. Sprinkle the mozzarella over the pesto, then drop the herbed ricotta in small scoops all over the top. Sprinkle with the walnuts.
Transfer to the oven (put the parchment paper with the pizza directly on the pizza stone). Bake for about 10 to 14 minutes, until the crust is golden brown.
Remove from the oven, then sprinkle with the lemon zest and top with the fresh arugula. Slice and serve!
Notes
As with all pizzas, feel free to adjust the amounts of the toppings to your own taste.
Prep time includes time to preheat the oven and allow the pizza stone to heat.
If you do not have a pizza stone (I highly recommend them for homemade pizza though!!), you can place the parchment with the pizza on a large baking sheet instead and then bake as directed.
Nutrition Information:
Yield:

8
Serving Size:

1
Amount Per Serving:
Calories:

359
Total Fat:

19g
Saturated Fat:

5g
Trans Fat:

0g
Unsaturated Fat:

13g
Cholesterol:

19mg
Sodium:

503mg
Carbohydrates:

35g
Fiber:

2g
Sugar:

2g
Protein:

12g
Nutrition data shown is an estimate provided by an online calculator and is for informational purposes only. It should not be considered a substitute for a medical professional's advice.