Roasted Tomato and Goat Cheese Quiche
Can we talk about how happy that giant pile of gorgeous multi-colored cherry tomatoes makes me?
I always get ridiculously excited when I see them at the store. As in, I go running over to them and stand there forever trying to decide how many pints I want to buy. Because all those colors are just so much fun!
I must be quite the sight because I also always seem to attract strangers who want to talk to me about my produce choices and what I intend to make with everything. Apparently I get visibly excited about fruits and veggies?
Although, my personal favorite was the couple behind me at the checkout last week who asked if I actually do indeed eat all those vegetables.
Well yes, yes I do! Especially those pretty tomatoes!
And after eating plenty just plain, of course I had to roast a bunch up and spoon em' over a quiche. Had to, had to.
Roasting really brings out the best even in mediocre tomatoes, so this tomato and goat cheese quiche seemed like a great dish to share as we prepare to transition in the seasons.
And it really is awesomely simple. And a perfect make-ahead dish for a gathering!
So, let's discuss!
We have some roasted cherry tomatoes. Obviously.
We have some eggs, some milk, a touch of half & half, some salt and red pepper flakes that we'll whisk all together until nice and combined.
We'll sprinkle some sliced green onions and crumble some goat cheese into a store-bought crust, pour in that egg mixture and bake away!
And after the quiche has time to rest, we'll spoon those gorgeous tomatoes right on top and finish with a sprinkle of fresh basil.
I mean, does it get any prettier??
Roasted Tomato and Goat Cheese Quiche
Prep Time: 15 minutes
Cook Time: 1 hour 45 minutes
Total Time: 2 hours
Recipe for tomato and goat cheese quiche. A simple, make ahead dish filled with green onions and goat cheese! Topped with plenty of roasted tomatoes!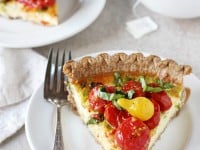 Ingredients:
For the tomatoes:
2 pints cherry tomatoes
1 tablespoon olive oil
salt and pepper, for sprinkling
For the quiche:
5 large eggs
½ cup whole milk
¼ cup half and half
½ teaspoon salt
¼ teaspoon red pepper flakes
1 bunch green onions, thinly sliced (about ¾ cup)
2 ounces goat cheese, crumbled
1 (9-inch) store-bought frozen pie shell, thawed*
chopped fresh basil, for garnish
Directions:
For the tomatoes:
Preheat the oven to 350ºF.
Add the cherry tomatoes to a 9×13 inch glass baking dish. Drizzle with the olive oil and sprinkle lightly with salt and pepper. Toss to combine and spread in an even layer. Bake for about 50 minutes to 1 hour, stirring once halfway through, until the tomatoes are sort of shriveled and slightly charred. Set aside to cool.
For the quiche:
Increase the oven temperature to 375ºF.
In a medium bowl, whisk together the eggs, milk, half and half, salt and red pepper flakes until well combined.
Sprinkle the green onions and goat cheese evenly over the bottom of the thawed pie shell. Pour the egg mixture over the top.
Transfer the quiche to the oven and bake for about 45 to 50 minutes, until the center of the quiche is set.
Let the quiche stand for at least 15 to 20 minutes (I like to let it rest longer!). Spoon the roasted tomatoes over the top of the quiche and sprinkle with the fresh basil.
*You can also use your favorite homemade pie crust here! I've gotten quite lazy about making pie dough lately and found delicious frozen whole wheat ones at my local store (so I've just been using those).
I know the recipe time seems long but actual hands-on time is only 15 minutes! The rest is just baking time!