Fresh Herb White Bean and Avocado Sandwich
Fresh & fun white bean and avocado sandwich! With a white bean spread filled with fresh herbs, plus sliced avocado, fresh tomatoes and sprouts!
Let's talk about lunch, part two!
And how well I am doing about making lunches. Like not leftover lunches but actually thought about it and made something specifically for lunch.
Although if we're being honest I was doing really well with this before I left for vacation. Since I returned my only thoughts have been holy-cow-how-do-I-have-this-many-emails-and-how-long-is-it-going-to-take-me-to-get-through-them!?
Don't you wish there was a magical way to make all emails stop when you're on vacation? That way you can come back and just kind of pick up where you were beforehand. No catching up.
Someone get on this. Please? Pretty please?
About These White Bean Sandwiches
So in the midst of all my complaining about digging out of emails, I really should just stop and make these sandwiches again.
We ate them for probably about two weeks straight while I was testing and tweaking them to share with you. And they seriously never got old.
And the best part? You can just make the white bean spread and honey mustard ahead of time so all you really need to do is assemble a sandwich when you are ready to shove one in your face. That's my kind of lunch.
Components In These Sandwiches
White bean spread – Creamy, dreamy, full of fresh herbs.
Honey mustard – With two kinds of mustard! And honey. Duh.
Sliced avocado – Do I really need to say anything?
Some other fun toppings – You can find the nitty gritty down in the recipe below.
Bread – go for the good stuff. And something fun … like this marbled loaf.
Have I convinced you to make these yet?
Sandwich ♥ right there.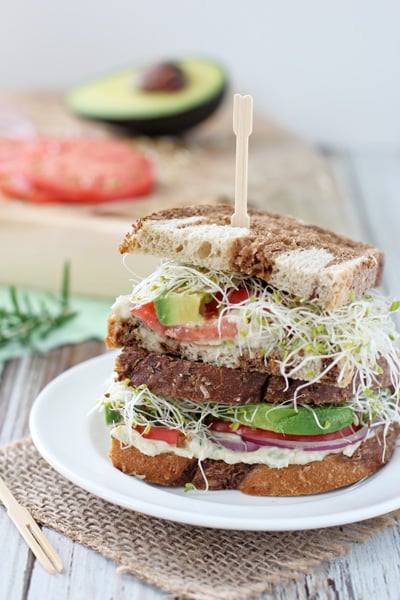 Additional Sandwich Recipes You Might Enjoy!
Did you make this recipe? Rate and review it down below! I'd love to hear from you.
Fresh Herb White Bean and Avocado Sandwich
Yield:
about 4 to 6 sandwiches
Fresh & fun white bean and avocado sandwich! With a white bean spread filled with fresh herbs, plus sliced avocado, fresh tomatoes and sprouts!
Ingredients
For the white bean spread:
1 (15 ounce) can cannellini beans, drained and rinsed
2 tablespoons olive oil
1 clove garlic, minced
about 1 tablespoon of water, if needed
1 tablespoon chopped fresh basil
1 tablespoon minced fresh chives
1 teaspoon minced fresh rosemary
salt / pepper, to taste
For the honey mustard:
1 tablespoon dijon mustard
1 tablespoon whole grain mustard
2 tablespoons honey
For the sandwiches:
slices of your favorite bread, toasted
sliced fresh tomato
thinly sliced red onion
sliced avocado
alfalfa sprouts
Instructions
To make the white bean spread:
Add the beans, olive oil and garlic to the bowl of a food processor. Process until smooth. If it won't smooth out, add water, 1 tablespoon at a time, until it reaches a smooth consistency (I usually add 1 tablespoon).
Add in the basil, chives and rosemary and pulse until combined. Taste and season with salt / pepper to your liking.
To make the honey mustard:
Add both kinds of mustard and the honey to a small bowl. Mix until smooth.
To assemble:
Smear the desired amount of white bean spread on one piece of the bread. Top with some sliced tomato, red onion, avocado and sprouts. Spread a little of the honey mustard on the second piece of bread. Place on top and serve!
Nutrition Information:
Yield:

5
Serving Size:

1
Amount Per Serving:
Calories:

159
Total Fat:

6g
Saturated Fat:

1g
Trans Fat:

0g
Unsaturated Fat:

5g
Cholesterol:

0mg
Sodium:

292mg
Carbohydrates:

22g
Fiber:

4g
Sugar:

7g
Protein:

6g
Nutrition data shown is an estimate provided by an online calculator and is for informational purposes only. It should not be considered a substitute for a medical professional's advice. Nutrition info shown is ONLY for the white bean spread and honey mustard (as the rest will vary widely depending on your bread / toppings).