Lime, Dark Chocolate and Coconut Muffins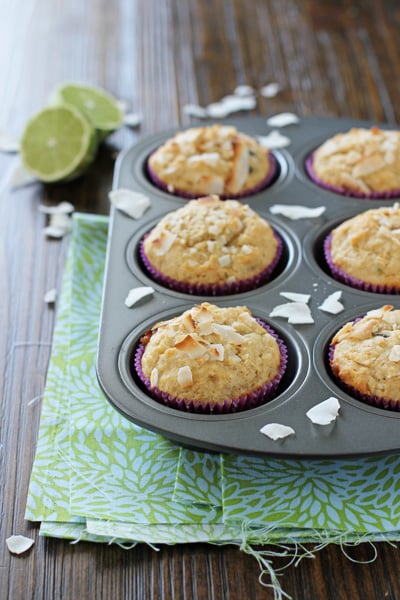 The breakfast rut blues.  That's how I've felt lately.  I've been meh about oatmeal.  Blah about my long-standing toast with peanut or almond butter.  No love for greek yogurt topped with fruit.  None of it is doing anything for me these days.  I love breakfast (read I am hangry in the morning and you don't want to be around me until I've had coffee and then something to eat) but the funk wouldn't go away.
Clearly I needed to bust out of it with some freshly baked muffins.  With chocolate.  Obviously.
Since these were intended to be for breakfast time, I healthified them up a tad to feel better about eating them first thing in the morning.  There's some whole wheat flour.  Only honey and maple syrup to sweeten them up.  Coconut oil.
And if you want, you can sub out the chocolate (although then we can't be friends because who doesn't like some dark chocolate for breakfast) for fresh or frozen blueberries.
I kid – I make these both ways.  And like them equally.  So we can still be friends.
Lime, Dark Chocolate and Coconut Muffins
Recipe for lime, dark chocolate and coconut muffins. Healthy muffins with whole-wheat flour, coconut oil and honey. Filled with lime, chocolate and coconut.
Ingredients:
¾ cup all-purpose flour
1 cup white whole wheat flour
2 ½ teaspoons baking powder
½ teaspoon sea salt
1 large egg
⅓ cup melted coconut oil*
⅔ cup whole milk
¼ cup honey
¼ cup pure maple syrup
1 ½ teaspoons vanilla extract
½ teaspoon coconut extract
1 tablespoon lime zest (from about 2 limes)
1 cup dark chocolate chips or chunks
½ cup unsweetened shredded coconut, plus extra for sprinkling**
Directions:
Preheat the oven to 375 degrees. Line a muffin pan with liners and set aside.
Whisk together both kinds of flour, the baking powder and salt in a medium bowl.  In another medium bowl, whisk together the egg, coconut oil, milk, honey, maple syrup, vanilla extract, coconut extract and lime zest.  Add to the bowl with the dry ingredients and mix until just combined.  Gently fold in the chocolate chips and coconut.
Divide the batter evenly in the prepared muffin tins, filling each about ⅔ of the way full.  Sprinkle the tops with additional shredded coconut, if desired.
Bake for about 14 to 16 minutes, until a toothpick inserted into the middle comes out clean.  Let cool for about 5 minutes, then remove the muffins to a wire rack to cool completely.
*Make sure that you melt the coconut oil first and then measure out the correct amount (otherwise you may use too much).
**You can also use unsweetened coconut flakes.  I like to pulse them a few times in the food processor to get them to break down a bit.