Sweet Potato Corn Chowder
I know what you're thinking. What is this crazy woman doing sharing a soup recipe in June? Especially when, at least by us, it's already been quite hot and humid and sticky!
Then again, I am that person who will eat soup all year round (as long as I'm sitting in the air conditioning mind you!). So there's that. But! It's corn chowder! With fresh corn! And sweet potato! So I'm hoping you'll be down with this recipe too.
Now. I had a brief moment of madness and almost didn't share this because it's not exactly a looker. Kind of ugly with a capital U. But. That was just complete silliness on my part because what it lacks in looks it most certainly makes up for in taste. Times a hundred. And you need this in your life. End of story.
So, let's talk about this summer soup. At the very very tail end of last summer I had a sweet potato corn chowder at a local restaurant. And I was completely enamored. Slightly creamy, packed with fresh corn. It was total and complete love. But of course this love story started right around the time that fresh corn disappeared at the grocery store for the season. Womp womp.
I've been itching to recreate it at home since then and must have looked like a complete nut-o when corn reappeared at the store a few weeks ago. Yes, I was that person who ran over to it in the produce aisle like it was some kind of long lost friend. What can I say, I get excited about produce?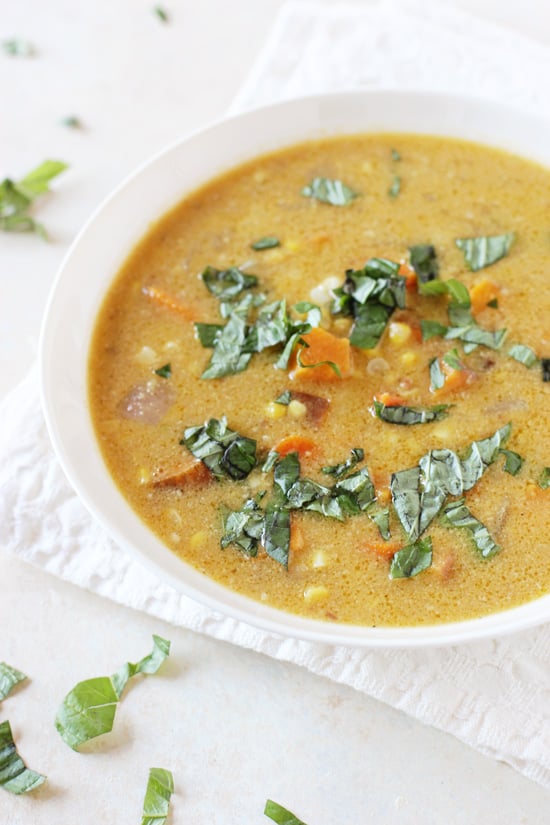 ANYWAY, we've had this soup pretty much once a week ever since. It's flavorful. It's creamy from both the sweet potato and canned coconut milk. It's filled with perfectly wonderful fresh corn! And when topped with loads of basil and served with some crusty bread? Swoon, swoon!
Added bonus? It's not hard at all to pull together.
We chop up a bunch of veggies. Get it all into a big ol' pot and then let it simmer away until the potatoes are tender and it gets nice and groovy. At the very end we'll puree just a small amount of the soup to give it even more creamy goodness (from the sweet potato). Just top with the fresh basil and you're good to enjoy!
Not exactly super traditional corn chowder but just oh so fun.
Into something a bit more classic? This corn chowder with squash and zucchini from the archives is still a favorite at our house too!
Sweet Potato Corn Chowder
Prep Time:15 minutes
Cook Time:35 minutes
Total Time:50 minutes
Creamy and flavorful sweet potato corn chowder! Packed with fresh corn and coconut milk! Top with fresh basil for a perfect summer meal.
Ingredients:
2 tablespoons olive oil
1 medium red onion, chopped
2 medium carrots, peeled and chopped
3 large cloves garlic, minced
4 cups low-sodium vegetable broth
1 (13.5 ounce) can full-fat coconut milk
2 small sweet potatoes (about 1 pound), cut into ½ inch chunks
5 medium ears corn, kernels removed (about 2 ¾ cups)
1 teaspoon fine sea salt
¼ teaspoon pepper
1 ½ teaspoons cumin
⅛ teaspoon cinnamon
1 ½ teaspoons worcestershire sauce*
chopped fresh basil, for serving
Directions:
Set a large stockpot or dutch oven over medium heat. Add in the olive oil. When hot, add in the onion and carrots and cook for about 5 to 7 minutes, until tender. Add in the garlic and cook for 30 seconds, until fragrant. Add in the broth, coconut milk, sweet potatoes, corn kernels, salt, pepper, cumin, cinnamon and worcestershire. Increase the heat and bring to a boil. Turn down the heat and simmer for about 15 minutes, or until the potatoes are tender. Turn off the heat.
Very carefully, transfer about 3 cups of the soup to a blender and process until smooth. Return the pureed soup back to the pot and mix until combined. Taste and season with additional salt and pepper if needed. Serve topped with plenty of fresh basil!
*Be sure to use vegan / vegetarian worcestershire sauce to keep this vegan / vegetarian!!