Carrot Cake Muffins with Mascarpone Glaze
Recipe for carrot cake muffins. Soft, tender muffins filled with plenty of carrots and finished with a creamy mascarpone glaze. Perfect for Spring!
These muffins. These easter-y, brunch-y, spring-y, dessert-y, yet totally acceptable for breakfast-y (that's not a word but go with me here) carrot cake muffins are the things of my dreams.
And trust me, once you've had one, you'll be right there with me.
I tested these a few times for you over the course of the last few weeks and it has been an internal battle over whether or not I should totally rearrange my blog calendar and share them with you sooner or wait until planned.
Because holy smokes you needed to know about these!
But then, then, I also know that I am a bit of a control freak and felt like that would completely throw off my mojo, my schedule, everything. So I waited. I'm sorry, I truly am.
My husband can attest to the fact that I throw a hissy fit when everything doesn't go exactly according to my *obsessively* laid plans. And yes, I know, oh lordy help me when we have kids.
How To Make Healthy Carrot Cake Muffins
But getting back to these muffins.
Let me let you in on a little secret – the muffin base is totally healthy – we're talking whole grains, coconut oil, sweetened only with honey and pure maple syrup, lots and lots of raw carrots.
The base is nice and light and almost fluffy – not at all dense and most certainly not at all dry.
It's just that creamy, dreamy, thick glaze that takes these a little bit over the top.
Now, you can 100% use cream cheese in place of the mascarpone (cream cheese is a bit sturdier though so you may need to add more milk to get it to the right consistency).
But! I really happen to love the sort of milder taste of the mascarpone and would encourage you to give it a try here!
We finish these muffins off with a nice sprinkle of chopped pecans (you can omit this if you like) for a bit of crunch and of course just to make them even more pretty.
All leading to muffins that I looked forward to every single day until we ate every last one.
Fun fact – we actually had a slice of real, full-on, decadent carrot cake in the house at the same time that I made a batch of these muffins. And we liked these muffins way better.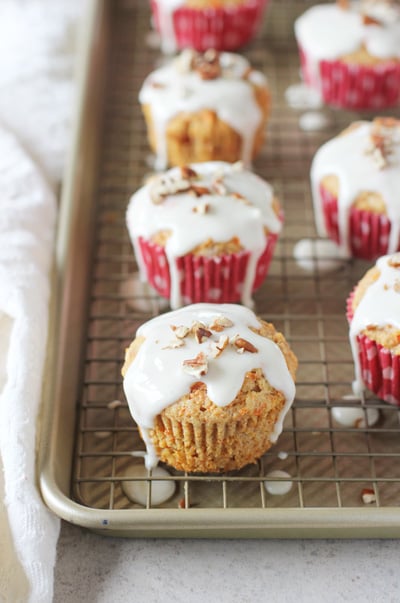 Additional Muffin Recipes You Might Enjoy!
Did you make this recipe? Rate and review it down below! I'd love to hear from you.
Carrot Cake Muffins with Mascarpone Glaze
Recipe for carrot cake muffins. Soft, tender muffins filled with plenty of carrots and finished with a creamy mascarpone glaze. Perfect for Spring!
Ingredients
For the muffins:
1 cup white whole wheat flour
¼ cup oat bran
½ cup all-purpose flour
2 ½ teaspoons baking powder
½ teaspoon sea salt
¾ teaspoon ground cinnamon
½ teaspoon ground nutmeg
pinch of ground cloves
1 large egg
⅓ cup melted coconut oil
⅔ cup milk (I like whole milk here)
¼ cup honey
¼ cup pure maple syrup
1 ½ teaspoons vanilla extract
2 cups grated carrot (about 4 large carrots)
For the glaze:
4 ounces mascarpone, room temperature
2 tablespoons whole milk
½ teaspoon vanilla extract
pinch of salt
1 ¼ cups confectioners' sugar
For garnish:
Instructions
To make the muffins:
Preheat the oven to 375ºF. Line a muffin pan with liners and set aside.
Whisk together the white whole wheat flour, oat bran, all-purpose flour, baking powder, salt, cinnamon, nutmeg and cloves in a medium bowl. In another medium bowl, whisk together the egg, coconut oil, milk, honey, maple syrup and vanilla extract. Add to the bowl with the dry ingredients and mix until just combined. Gently fold in the carrots.
Divide the batter evenly in the prepared muffin tins, filling each about ⅔ to ¾ of the way full.
Bake for about 15 to 17 minutes, or until a toothpick inserted into the middle comes out clean. Let cool for about 5 minutes, then remove the muffins to a wire rack to cool completely.
To make the glaze:
Once the muffins have cooled, add the mascarpone, milk, vanilla, salt and confectioners' sugar to a large bowl. Beat with an electric mixer until smooth (you want the glaze to be thick, but not so thick that you can't drizzle it on the muffins - you can add more sugar or milk to get it to the right consistency if needed).
To assemble:
Drizzle some of the glaze on top of each muffin, then garnish with some pecans. The glaze will set as it sits.
Notes
Be sure to melt the coconut oil first and then measure out the correct amount (otherwise you may use too much).
I grate the carrots in my food processor - makes it nice and quick!
I always have a touch extra glaze (enough for maybe 2 muffins or so) when I make this but I'm the type of person who would rather have extra! So feel free to cut back the quantities if you wish (it really just depends on how much you want to use on each muffin). Or, make the full amount listed and if you have extra, use it on other things!
Once glazed, you'll want to store these in the refrigerator in an airtight container. I like to let them come back to room temperature before serving.
Nutrition Information:
Yield:

14
Serving Size:

1
Amount Per Serving:
Calories:

221
Total Fat:

10g
Saturated Fat:

7g
Trans Fat:

0g
Unsaturated Fat:

2g
Cholesterol:

25mg
Sodium:

222mg
Carbohydrates:

32g
Net Carbohydrates:

0g
Fiber:

2g
Sugar:

19g
Sugar Alcohols:

0g
Protein:

3g
Nutrition data shown is an estimate provided by an online calculator and is for informational purposes only. It should not be considered a substitute for a medical professional's advice.