Caprese Stuffed Spaghetti Squash
These delicious caprese stuffed spaghetti squash are perfect for the transition from summer to fall! Infused with basil and garlic, then stuffed with cherry tomatoes and mozzarella, they're an awesome meatless meal. Gluten free and vegetarian.
Note: This recipe is NOT dairy free. It was published before Cook Nourish Bliss transitioned to dairy free recipes and remains popular with long time readers. You can try using substitutions to make it dairy free, however I have not tested this myself and can't say how it will turn out.
Let's talk another perfect dish for the transition from summer to fall!
More like the incredibly slowwww transition between the seasons if you live here in crazy humid North Carolina.
But until this awful heat decides to magically disappear, I'll just eat copious amounts of this caprese stuffed spaghetti squash and call it a day.
And the base for this recipe is coming atcha' straight from one of my favorite sources. I know you must remember my friend Meg, who is behind both the summer flatbreads AND the grape salsa. Yes?
Meg actually passed along this spaghetti squash deliciousness last year and I feel like I've been holding out on you. I'm sorry? Please forgive me.
Now, the recipe that she sent is the first part of the recipe below. We're talking spaghetti squash that we infuse with loads of basil and garlic. And it's amazing if you just make that part. A perfect side dish.
But. I couldn't leave well enough alone and of course had to take it one step further and then stuff the squash with even more goodness.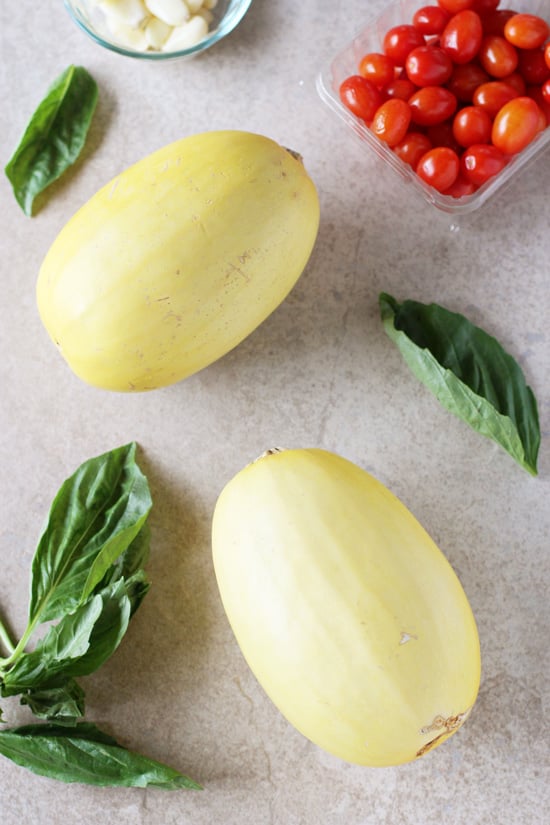 How To Make Caprese Spaghetti Squash
So after we infuse the squash with that basil-y, garlic-y awesomeness, we'll scrape out the spaghetti-like strands, mix em' up with some cherry tomatoes, some beans for a bit of protein and some mozzarella.
It all gets piled back into the sort of squash "bowls" and then topped with a touch more cheese and of course some more fresh basil.
Oh, oh, and drizzled with some balsamic glaze. I think my use of this stuff has reached a comical point.
Light. Fresh. Cheesy. It's the perfect trifecta.
Additional Squash Recipes You Might Enjoy:
Did you make this recipe? Rate and review it down below! I'd love to hear from you.
Caprese Stuffed Spaghetti Squash
Total Time:
1 hour
20 minutes
These delicious caprese stuffed spaghetti squash are perfect for the transition from summer to fall! Infused with basil and garlic, then stuffed with cherry tomatoes and mozzarella, they're an awesome meatless meal. Gluten free and vegetarian.
Ingredients
For the squash:
2 medium spaghetti squash
olive oil, for brushing
salt and pepper, for sprinkling
4 large cloves garlic, minced
½ cup packed fresh basil leaves
For the filling:
1 pint cherry tomatoes, halved (quartered if large)
1 (15-ounce) can cannellini beans, drained and rinsed*
1 cup small fresh mozzarella balls, patted dry and sliced in half
salt and pepper, to taste
¾ to 1 cup freshly shredded mozzarella cheese
additional chopped fresh basil
balsamic glaze, for drizzling
Instructions
For the squash:
Preheat the oven to 375ºF. Line a large rimmed baking sheet with aluminum foil and set aside.
Cut off the stems of the spaghetti squash. Next, cut each squash in half lengthwise. Spaghetti squash are hard to cut, so work carefully. Use a spoon to scoop out the seeds and the attached sort of stringy, darker flesh - discard.
Brush some olive oil on the inside of each squash half and then lightly sprinkle with some salt and pepper. Sprinkle some of garlic inside each "cavity," then top with some of the basil leaves. Place the squash face down on the baking sheet (so the garlic / basil is trapped in the cavity).
Bake for about 40 to 45 minutes, or until the squash is tender (if you take a fork, the flesh will easily scrape into spaghetti-like strands). Let cool for about 5 to 10 minutes, so they are easier to handle. Maintain the oven temperature.
For the filling:
Once cool enough to handle, flip over the spaghetti squash halves and leave them directly on the baking sheet. Use a fork to scrape out most of the flesh (leaving a thin layer of flesh to help maintain the shape). Transfer the spaghetti-like strands to a medium bowl. Make sure you grab any garlic / basil that is on the baking sheet and add to the bowl as well!
Add the cherry tomatoes, beans and mozzarella balls to the bowl. Toss to combine. Taste and season with salt / pepper.
Place an equal amount of this filling back into each of the scraped-out spaghetti squash "bowls." Sprinkle an equal amount of the shredded mozzarella cheese onto each.
Return to the oven to bake for 5 minutes, until the cheese is nice and melted.
Remove from the oven and sprinkle with the fresh basil and a drizzle of the balsamic glaze.
Notes
*If you are not a huge fan of cannellini beans, I think chickpeas would also be awesome here.
Nutrition Information:
Yield:

4
Serving Size:

1
Amount Per Serving:
Calories:

398
Total Fat:

12g
Saturated Fat:

7g
Trans Fat:

0g
Unsaturated Fat:

4g
Cholesterol:

36mg
Sodium:

633mg
Carbohydrates:

55g
Fiber:

12g
Sugar:

15g
Protein:

22g
Nutrition data shown is an estimate provided by an online calculator and is for informational purposes only. It should not be considered a substitute for a medical professional's advice.